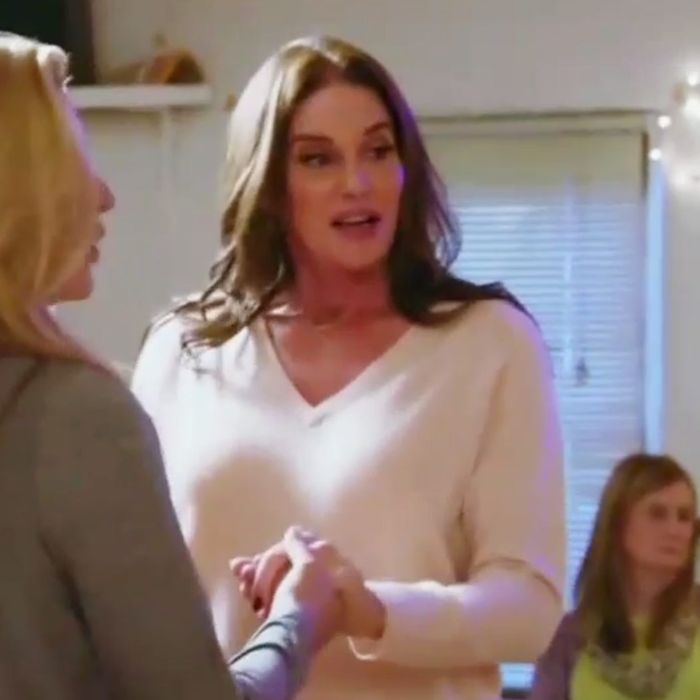 Caitlyn Jenner.
Photo: E!
Winter Laike is a trans musician, storyteller, son, brother, and, less notably, Original Plumbing magazine's Mr. Transman NYC 2013. Nicole Pasulka is a non-trans journalist who writes about sexuality and gender and can remember a time not so long ago when every article about trans people or issues had to include an ad hoc definition of the term. Those days are gone, and in their place we have I Am Cait, part reality show, part PSA, a landmark moment for trans visibility, and a romp through the homes and closets of a very rich woman. Ahead, we discuss Sunday's episode, "Partner Up."
Nicole Pasulka: Cait and the ladies are on a road trip to spread awareness of trans issues across the country. It's snowing in New Mexico and Cait's BFF, the actress and performer Candis Cayne, has a date. She's had a rough time in relationships past. Her last boyfriend was abusive and she thinks that because she's trans, guys generally disrespect her and take her for granted.
Winter Laike: Candis got the date because Zackary Drucker made an online dating profile for her and found a match. Cait says she "can't believe that even Candis — an absolutely gorgeous woman — has to do online dating" in a tone that suggests dating online is akin to hitting rock bottom. I disagree. Online dating is easier and safer, especially for trans people. On some dating sites, you can filter for people who are open to dating trans people, so you don't have to worry about that awkward, painful moment when you disclose and your date reacts badly.
N.P.: Cait's new California driver's license has arrived in the mail. "We're legal!" she shouts. It's a big milestone: As Cait knows, having the appropriate gender and name on your ID is crucial and can make all sorts of situations safer, from interactions with the police to encounters in airports and businesses.
W.L.: Cait is definitely undergoing an accelerated transition. Some people wait a year just to get a court date for a name change. I wonder if her perspective would change if she had to do everything on a more ordinary timeline, without her fortune, while living in the South or Midwest.
Cait looks at her new ID and tears up while delivering a eulogy to Bruce Jenner. Bruce, she says, "was a very good person." Wait, is Caitlyn not a good person? When someone transitions their former self doesn't completely die. Some characteristics remain the same.
N.P.: I wonder if the glow and excitement Cait experienced when she first came out is wearing off a bit. She does seem more reflective and burdened by her identity these days. Candis's date is tonight and Cait suggests she play hard to get. Easy for her to say: Cait is currently playing impossible to get. She sees how much rejection her friends face and doesn't want to deal with it, so she's just not dating. And then, Candis's date stands her up. Ugh, this is awful.
W.L.: If Candis Cayne can't get a date, what hope is there for the rest of us?
N.P.: Well, if things get too rough, we can always pet some Silkie chickens. Apparently, they're very soft and comforting.
W.L.: After the group cuddles the chickens, Candis decides to take everyone out salsa dancing. She wants Cait to get more in touch with her feminine side. The instructor introduces them to the men who will be their dance partners and Cait says she doesn't want her kids to see pictures of her dancing with a man. She instead partners with Candis, who had been hoping to dance with hot guys.
N.P.: I want to salsa dance with Candis, too. I get it. Cait is leaving the group for a short trip to New York to get the Glamour Woman of the Year award and the rest of the ladies are going to meet Arin Andrews, a trans guy and model who appeared in a Barneys spread. 18-year-old Ella thinks "he's really fucking cute."
W.L.: Arin Andrews also made news when he was dating Katie Hill, a trans girl. But they are broken up now. Get it, Ella.
Chatting with the girls on the bus, Chandi says that she misses her kiki days when she was a drag performer. Ella seems surprised to hear that Chandi did drag, and Chandi tells her "not all performers are men." Really, anyone can do drag. Chandi had to give up performing to take care of her parents and now feels like a part of her is missing. But maybe she will get on stage again someday. Foreshadowing!
N.P.: After spending so much time in their "bubble of happy acceptance," the women are shocked when a local restaurant doesn't want them to film or eat there. We don't learn the name of the restaurant or see them getting turned down, but Candis says whoever was in charge doesn't approve of the show. This is life in the region, apparently.
W.L.: While the crew (minus Jenner) are going rock climbing with Arin Andrews in Tulsa, Chandi's mom is on the phone. She says hello to everyone and reminds Chandi to be careful rock-climbing because she's "not a little person." Moms: They're really good at being loving while simultaneously throwing shade. Aside from Jenny Boylan's wife, Deirdre, there haven't been many other family members on the show. It's good to be reminded that trans people have families who love them.
N.P.: Arin Andrews has brought his friend, Laith Ashley, along to the rock-climbing gym. Laith is a trans model and up on that rock wall he is "getting it in," according to Chandi. Candis is crushed out. I like how much of her charm and personality comes out in these moments. Candis says she hadn't considered dating someone who's trans, but Laith is — well, Laith is Laith. So she's going to open herself up to a bigger pool of guys.
That night at Legends Dance Hall in Tulsa, Jenny Boylan rides a mechanical bull and Candis and Laith flirt their faces off. It looks like Chandi enjoys watching Candis flirt, too.
W.L.: In New York City, Cait is getting ready for the Glamour event. Buzz Bissinger is there, presumably because of the Vanity Fair profile. Cait says she was shocked and honored. "Why were you shocked?" Buzz asks. Cait was surprised to be so welcomed by the trans community, Glamour, and womanhood in general.
N.P.: She's lucky she hasn't had to come out on her own. Trans activists, women like Candis Cayne, Chandi Moore, Kate Bornstein, and Jenny Boylan — the very women with whom she's traveling — have paved the way for this moment.
W.L.: Caitlyn invited Kylie to be her date to the awards ceremony, but Kylie doesn't show up because of a "wardrobe malfunction." Cait is disappointed. I would be disappointed, too, but as she puts it, I also wouldn't want my kid flashing her "vagina" to a bunch of people with cameras.
N.P.: Back on the bus, the other women are driving overnight to Chicago to see Candis's friend Mimi Marks at the Baton Show Lounge, a legendary drag club.
Drag, however, is not Jenny Boylan's "thing." It's a performance of gender and Jenny says that, for some sisters and brothers, it's important to see their lives "not as a performance, but as reality." Chandi, however, started out in drag. It saved her life and she says trans people shouldn't "separate themselves from the world in which some of us began." Is drag a safe space for gender non-conforming and trans people, or does it imply trans women are "pretending" to be women?
W.L.: But isn't gender a performance? If the general public learned the difference between being trans and doing drag, this clash might not exist. At the hotel room, Chandi tells Candis, "If it wasn't for drag, maybe I would be a miserable gay boy trapped right now." Chandi needs to find her way back to performing because that's where she really gets to let go.
N.P.: Poor Chandi. Between running the support group for trans youth and taking care of her sick parents, she is rundown and overextended.
W.L.: Zackary, who is in a great relationship, is determined to help Cait and Candis get over their dating woes. She invites the group to the hotel bar for some boozy cruising. Cait tries talking to a guy, and it basically looks like she's interviewing him for a job. Very unsexy. She leaves and goes back to her hotel room. Alone.
Candis asks Cait why she doesn't want to just go on a date and Cait says she can't bring up dating to Kylie and Kendall. If she's dating a man, the conversation will be even more difficult.
N.P.: Do you think Cait is using Kylie and Kendall as an excuse?
W.L.: I think Cait has her own fears to work through. Kylie and Kendall are the most accepting kids ever, remember? Clearly something is going on with Cait. She said that she would want to date men, not women, but feels uncomfortable about even dancing with a man. She seems to really have eyes for Candis, though. Or if she doesn't want to date Candis, she also doesn't want anyone else to date Candis.
N.P.: While talking to Zackary, Jenny decides that because the drag world saved Chandi's life, "How can anyone not celebrate that?" Onstage at the Baton Show, Candis and Chandi seem very alive and at home. It certainly doesn't detract from their gender or identity. No pretending here, just joy on stage. Even Jenny waves some dollar bills at the queens.
W.L.: The debate goes on a bit too long, but two good things come out of it: We got a break from politics, and Chandi was celebrated. Though I still think we could have used more Laith Ashley this episode. Here's hoping he returns next week?