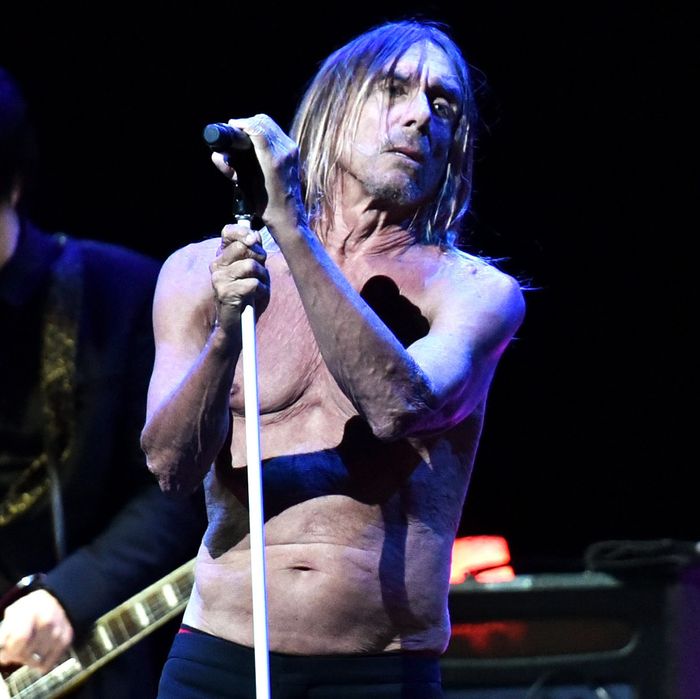 Iggy Pop. Not pictured: All the effs he doesn't have to give.
Photo: Amy E. Price/Getty Images
Iggy Pop truly, madly, deeply loves the word fuck.

He loves to draw it out through the cracks between those gleaming teeth of his and let it balloon into a lung-wringing exclamation — FUCK! — as the chords of the last song die out and every hand in the place is taut, open, and reaching towards him. He loves the burst of it as an afterthought — fuck! — when he's surveying the havoc he wreaked, ambling over to the defeated microphone stand that's bending in a way it shouldn't because he threw it across the stage just so. He loves it as a grand salutation — Fuuuuck! — as he frantically waves at the rafters, the sound guy, the security detail keeping the fans from hurling themselves over the barricade and into the photo pit, the bouncing and screaming and flailing worshippers waving back at him. He loves to write it in his lyrics; he loves to pepper the answers he gives to the questions he's asked with it. Whether it's a verb, a noun, an adjective, or just a good fucking cuss, Pop's word of choice for any emotional situation is, undoubtedly, fuck.

Iggy Pop loves Queens of the Stone Age frontman Josh Homme and the music they make together almost as much as he loves the word "fuck." He proved it for two straight nights at this year's SXSW, where he, Homme, and their thunderous new band — a veritable supergroup that features members of QOTSA, Arctic Monkeys, and Chavez — performed at the Moody Theater. Though the album that came from their collaboration, Post Pop Depression, will be released March 18, it counts a modest nine songs on its track list, and their two-hour set banked on Lust for Life and The Idiot, the two albums that Pop collaborated on with David Bowie in 1977, especially.
Pop came bounding up the middle of the stage pummeling his own naked chest for his big entrance, as though the adrenaline-spiking beat of "Lust for Life" was a dangling vine and he was getting ready to go all Tarzan on it. Launching into his biggest hit off the bat liberated the set list, in that it facilitated the successful bouncing between his new work and older cuts from Pop's catalogue: With "Lust for Life" out of the way early, there was no telling where Homme's next chord would crash, and that ping-pong nature between past and present made for an engaging repartee between the band and the crowd. The oh-so-mortal devastation of new song "American Valhalla" ("Death is the pill that's hard to swallow" and "If I have outlived my use / Please drink my juice" are just two of its stark, dark lines) and Post Pop Depression's calculating opener, "Break Into Your Heart," were just as dramatic and profound as 1977's "The Passenger" and "China Girl" were effervescent and satisfying.

And in between every track  — they played through over 20 — Pop laughed, and Pop rambled, and Pop reveled in his introductions. Pop threw his "fuck"s at his gleeful hands by the fistful, this verbal confetti delighting the same fans that spent the majority of "The Passenger" airborne.

If Pop really is "closin' up" and retiring from rock and roll after Post Pop Depression, this is a helluva way to go out: This severe record that not only dives into talk of mortality and relevancy, but swims laps in it, is a mighty listen, and the live show it inspires is one that does right by Pop's current prowess as a performer and his legacy as an icon. But the idea of Pop retiring is a shame, as his youthful exuberance continues to shine even half a century after he first started messing around with some kids with a penchant for noise in Detroit. In the meantime, Pop's greatest hits and the brilliance of Post Pop Depression will be lapped up and enjoyed by his devotees, and the same goes for all the fucks he has to give.