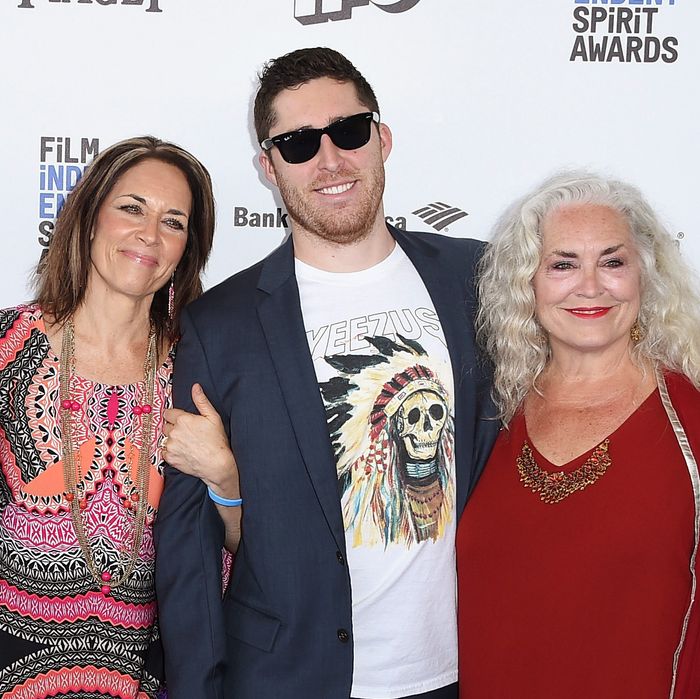 Photo: Steve Granitz/Getty Images
Some actresses arrive at the Independent Spirit Awards wearing couture gowns that cost more than the nominated films. Then there's Krisha Fairchild, star of the tiny movie Krisha, out today. In her mid-60s, with long white hair framing a handsome face unmarred by nips and tucks, Fairchild showed up to the swanky beachside soirée in a billowy red caftan, which looked leagues more comfortable than the body-conscious frocks worn by many an ingénue. And while she was working her look, the only regret Fairchild had is that she didn't get to hear that famous question posed by red-carpet reporters, "Who are you wearing?"
"I walked past them and nobody asked me!" Fairchild laughed. "I was gonna say, 'It's eBay.'"
She may not be a young up-and-comer clad in Prada or Marchesa, but Fairchild still has the lead in one of the most striking film debuts in years, and it bears her name. Written and directed by Trey Edward Shults, Krisha stars Fairchild as a woman wrestling with a very tenuous grip on her sobriety during a Thanksgiving-set family reunion, where long-held resentments finally come to the fore. Sympathetic and hallucinogenic, the film has been widely hailed since its award-winning South by Southwest premiere last year — Manohla Dargis just called it an "expressionistic tour de force" in the Times, and our David Edelstein loved it — and it's a family affair, too: Shults is Fairchild's nephew, and she co-stars in the film with her sister Robyn, whose Houston house Krisha was shot in.
The three of them made their way to the Spirit Awards last month in Santa Monica — "It's like the Clampetts go to Hollywood," said Fairchild — and while Shults and his mother mingled, Fairchild sized up the young actresses who'd clearly gotten their dresses from a stylist, not an online-auction site. "Some of them are very comfortable within their choices and some of them are not, and it seems to be proportional to how much skin is showing," said Fairchild with a warm, knowing smile. "But when they look around at other people, you can see their insecurities, their fears. I love to observe the difference between a persona and what's actually going on beneath a person."
That ability serves her well in Krisha, where her character puts on a brave face to greet the family members she abandoned years ago, then slowly lets that mask slip as fear, self-pity, and substances wreak havoc on her psyche. The confrontations that ensue are scalding — almost as if August: Osage County were remade with the intimacy of a home movie — and they're all too familiar to Fairchild and Shults, who watched a family member struggle with her addictions during a Christmas get-together in 2011.
"We were grieving her already. She was like a dead woman walking," said Fairchild. "Within two months, she had overdosed and died, and Trey went into his room, closed the door, and wrote."
A former intern for filmmaker Terrence Malick, Shults spent the summer of 2012 trying to shoot Krisha, but its first incarnation crumbled. "I had more of an ego then and was less collaborative," said Shults, whose shoestring budget also couldn't cover the equipment and actors the film sorely needed. "Behind closed doors, I was having a nervous breakdown, because I felt we could make a really special movie here but it wasn't happening. We were getting some nice stuff, but not enough to make a feature-length film."
Instead, Shults cut his feature film into a short, and after it won an award at South by Southwest, producer Justin Chan encouraged him to tackle the movie anew. The second time around, as the family gathered to shoot Krisha again, everything finally fell into place — and the making of the movie served as a cathartic relief for both Shults and his actors. "It was the best week of any of our lives because it had the most healing and the most closure," said Fairchild. "There were scenes that we filmed and afterwards, we had to hold each other."
Submitted again to South by Southwest, the feature-length version of Krisha won the festival's top prize and was picked up by hot distributor A24, and as the film enters limited release this weekend, it may also provide a second chance for Fairchild, who came to Hollywood as a young actress and left frustrated not long after.
"Thirty years ago I bolted from all of this and went to live a gentle, peaceful, Zen kind of life," she said. "I worked on who I was as a person, I worked on my spirituality. I was no longer just the characters that I built, or the façade that I worked on. That's why I like to watch façades — I look at these young women and I think, 'I wonder who they're gonna be. They may know who they want to be, but they certainly don't know who they're gonna be.'"
And if Hollywood comes calling now that Fairchild has finally figured herself out? "I would love the opportunity to play some multidimensional characters before I die," she said. "I know I've got a lot going against me. I'm big, I'm old, and I'm a woman. There you go, three strikes!"
But Shults demurred as his family walked towards the big tent where the Spirits were about to take place. "I always believed Krisha was a great actor," he said. "She just needed to have great roles to play."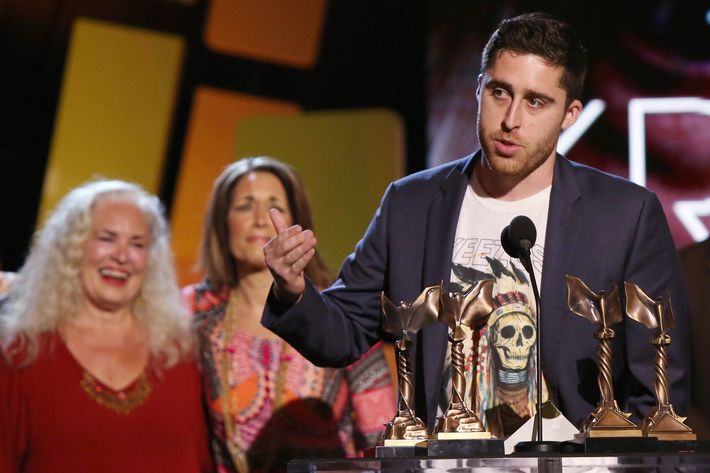 A funny thing that Shults and Fairchild learned on the festival circuit is that a film can qualify for the Independent Spirits before it's actually been released. That's how Krisha ended up with a nomination for the Spirits' John Cassavetes award, honoring films made for less than $500,000. As excited as Shults was about that nod, he wasn't expecting a win, so when presenter Juno Temple opened the envelope and called out the film's name, Shults and his family took to the stage, stunned.
"[This movie] was nothing but family and friends, and it was the most beautiful experience of my life," Shults said at the microphone as his mother and aunt beamed behind him. "And this is a beautiful way to end it."
As they returned to their seats, Fairchild and her sister Robyn were dumbstruck. "I'm not even on the Earth!" said Robyn. "Did that just happen?"
"I don't even know what I said up there," confessed Shults.
His star, on the other hand, knew exactly what she'd done with her major moment. "I think I yelled something at a young actress," said Fairchild, with barely disguised glee. "She was looking at me funny and I said, 'I'm old! And I'm the lead in this movie!'"