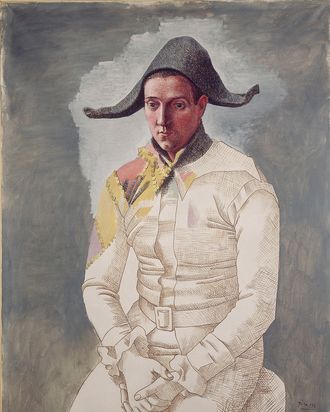 Photo: Centre Pompidou, Paris; Musée national d'art moderne/Centre de création industrielle, Bequest of Baroness Eva Gourgaud, 1965 © 2016 Estate of Pablo Picasso / Artists Rights Society (ARS), New York
"Every single one of the works here has a story attached to it," says Sheena Wagstaff, the British curator hired away from the Tate Modern to direct the Met's dramatic expansion into contemporary art (and into the old Whitney building on Madison Avenue, which it's renting from the Whitney for that purpose). The drawbridge reopens March 18 on the reflagged Brutalist redoubt, and the Met hasn't done much to the building itself — the same philanthropists' names remain inscribed on the galleries — but the bluestone floors are polished; there's a zippy new video-display wall when you first walk in and a new reception desk; the lightbulbs in the lobby's famous grid of ceiling lamps are now LED; and by this summer there will be a new restaurant. The Whitney had moved its offices out of the fifth floor to make room for more gallery space, but now there are offices there again (Wagstaff remembers that, when she was at the Whitney Independent Study Program in 1982, then-director Tom Armstrong had a little balcony with tomato plants up there). She gave me a walk-through of the installation of the first big show, "Unfinished: Thoughts Left Visible," and her thoughts, which mostly involve the shifting parameters of what it means that a piece is unfinished.
That Wagstaff et al. chose this theme, illustrated by works dating from 1437 to 2015, could be read as a gesture toward something like transparency (unusual for the Met) or even humbleness (even more so). But the first show also furthers an imperious claim: that the canon the Met has long seemed to embody is not a story with a fixed endpoint but one that's ravenously open to the contemporary (a period, and market, that art patrons are ravenous for these days, and the Met has always been an academicized trove of billionaire's bling, so it has to stay with what it finds currently covetable). Although only about a third of the pictures are drawn from the Met's collection (six come from MoMA's), the exhibition shows off what Wagstaff has said all along the museum was planning: putting contemporary art in context, including the surprising influences on the later artists — what you can learn from the imperfect.
She started with the Titian that opens the show (The Flaying of Marsyas, considered a bit underpolished for a Titian), stopping here and there to tell anecdotes. (Of a big blue Brice Marden: "He was very resistant — well, reluctant, to let us show this. But in the end he okayed it. So this is something that is absolutely unfinished. He's kept it and kept it and kept it. He said he throws nothing away.") There's a 1931 Picasso, probably of his mistress, although one can't be sure, since the face is violently squeegeed away. We pass a blue-and-burgundy Barnett Newman from 1970 which was considered incomplete because it needs another layer of blue paint (there are three of burgundy, but only two of blue), finishing up with the finale of the show: Cy Twombly's Untitled I-VI (Green Paintings). "These have never been published or seen," she says. "They were painted in 1986 and Twombly designed the frames as well and they're onboard." He never allowed them out of his studio, in Gaeta, outside Rome, and were never included in the catalogue raisonné of his works, published after his death, in 2011. "His partner, Nicola Del Roscio, didn't know why Cy had an issue with these; he felt they were finished."

Twombly is credited with the idea for the show —"[I]t was important to me to be able to cite an artist for who came up with this idea," Wagstaff says — dating from when she was at the Tate and there was a retrospective of his work there.
The unfinished conceit is flexible — possibly too flexible, and too encompassing, which makes the largely chronological installation feel a bit too abrupt at times, like you've turned the corner and wandered into a different and sometimes abruptly less-engaging museum show. Unfinished can mean abandoned mid-creation, because of the death of the artist (or the person paying for it), but more often the work is left a bit ragged or open-ended on purpose to achieve some stylistic or rhetorical point. Dodging art handlers (with their rubber suction cups) and donors getting sneak peeks during installation, Wagstaff, joined by two other curators responsible for the show, Kelly Baum and Andrea Bayer, told me those stories.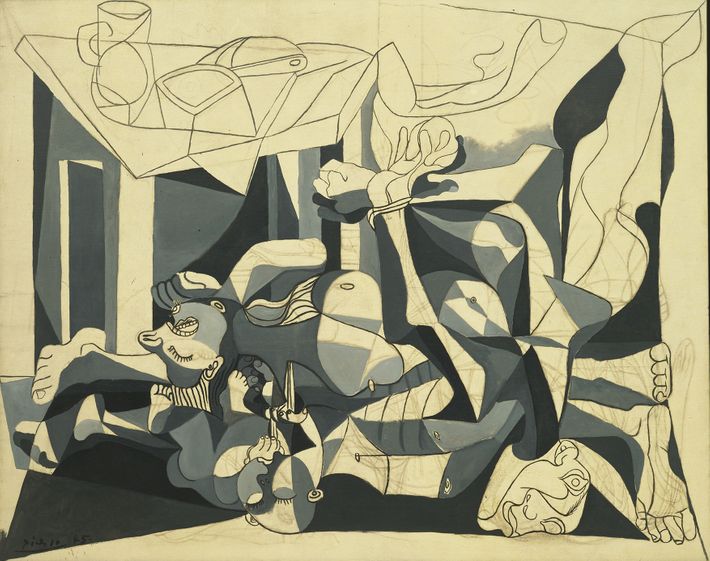 Pablo Picasso
Charnel House
1944–45

On loan from MoMA, it is one of the pieces which Nick Cullinan had worked with Diana Picasso to get into the show (another being Woman in a Red Armchair) and it was completed at the end of the Second World War; it refers either to concentration camps (Wagstaff's preferred interpretation) or to victims of a Franco massacre. "It's incomplete and yet finished," notes Baum, who joined the team in July. "You have a sense of the edits and corrections." Picasso donated this painting to the Association Nationale des Anciens Combattants et Ami-e-s de la Résistance Francaise for an art exhibition in 1946. "He clearly considered it finished enough to donate; and then he called it back to his studio to, he said, make corrections. And then he sold it. We don't know if he made any corrections."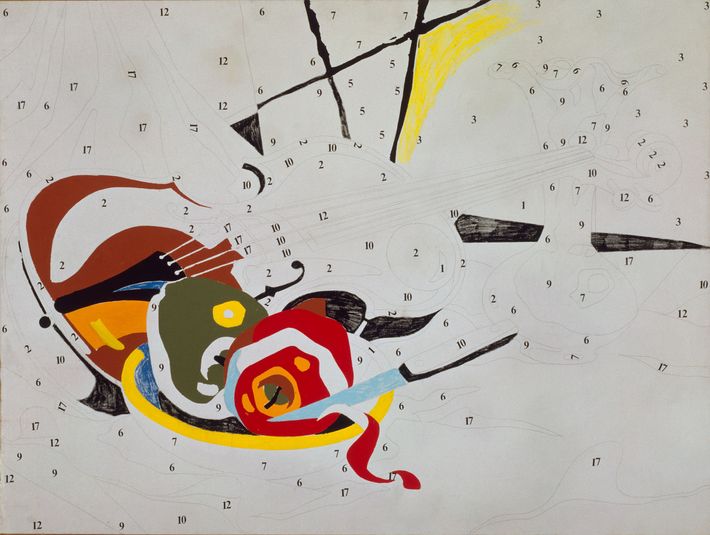 Andy Warhol
Do It Yourself (Violin)
1962
Warhol's do-it-yourself series marked the beginning of his move into fine art, and was based on then-popular Venus Paradise paint-by-numbers kits.* He made five of them, and only filled in one of them all the way. "It's a finished painting of an unfinished paint-by-numbers kit," notes Baum. "The task of completing the work was left to the viewer …. Of course these works are now too valuable to allow that to happen."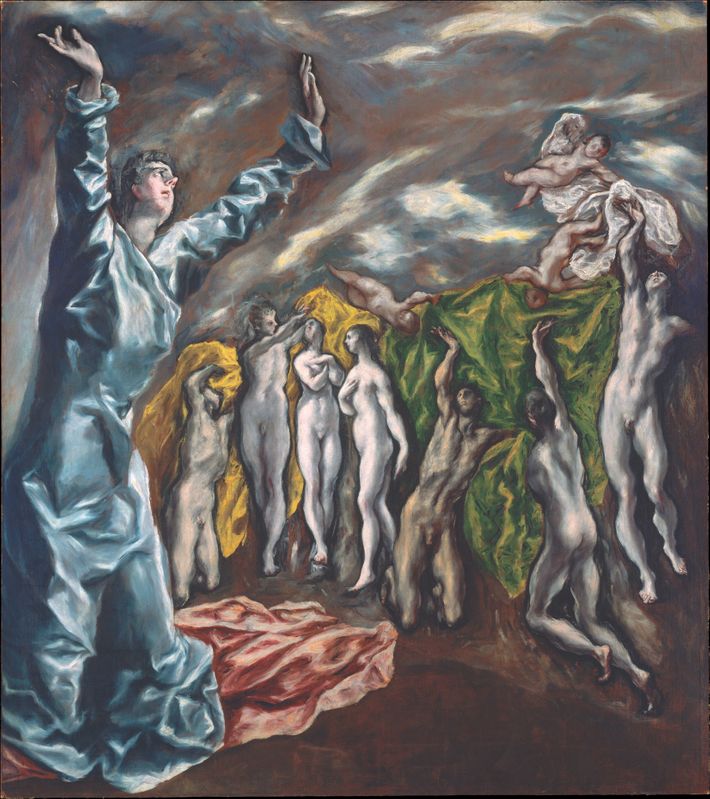 El Greco
The Vision of Saint John
ca. 1608–14
"This show is also a celebration of the Met's collection," says Andrea Bayer, a curator in the department of European Paintings. "There are 26 or 27 paintings from the European Paintings collection including this El Greco. So one of the things which we hope is that it makes us look at old favorites in a different way: It's in a new building, and in a new context. Since it's not on the wall of the Met, you can look at it as not a great masterpiece, but as a work which he didn't finish before his death." It was commissioned in 1608 for the altar of the Tavera Hospital outside Toledo. "The man was gesturing to something. But it was cut off in the late-19th century … When it was rediscovered in the early-20th century by people like Picasso," who saw it while he was painting Les Demoiselles d'Avignon, "they were reacting to its unfinishedness, the fact that the people are floating and the ground is not defined and the sky hasn't been completely painted up."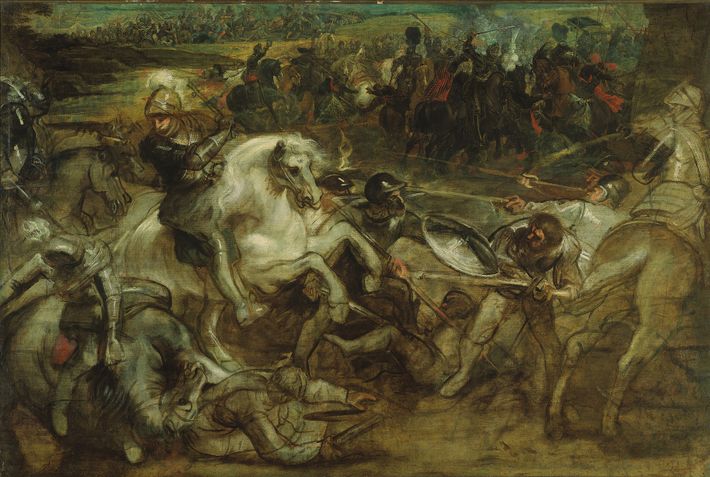 Peter Paul Rubens
Henry IV at the Battle of Ivry
ca. 1628–30
"This is a national treasure of Belgium," says Bayer. At the time this was made, "Rubens was working in Antwerp," and this was one of the paintings he was commissioned to do to document the victories of Henry IV of France for his widow, Marie de' Medici. "In 1631, he finds out that they had given him the wrong dimensions for this one, and were late paying, and so he just stopped." The top of the picture, where his assistants were sketching out more of the battle, was cut off, while Rubens was at work on the center of the composition, which is a soldier with a fierce look on his face — and three arms. "Rubens hadn't decided which arm" had to go, says Bayer.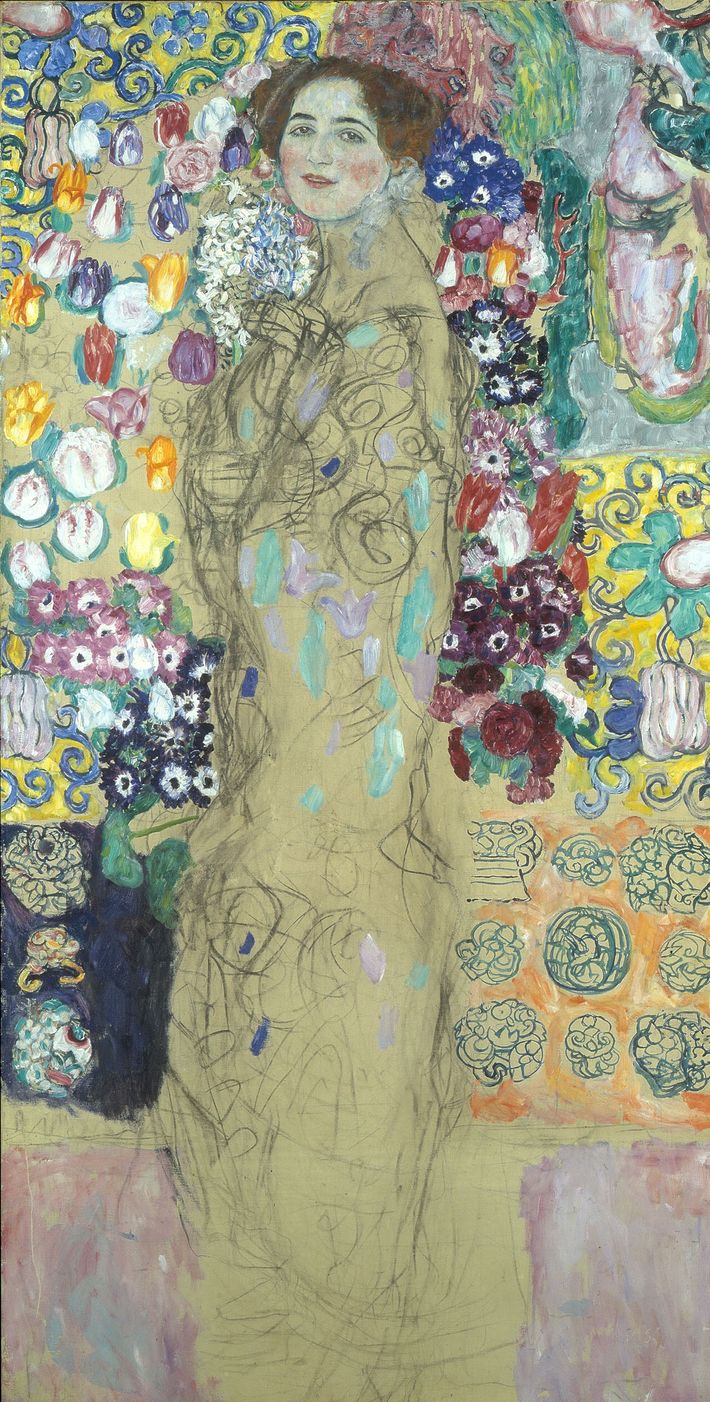 Gustav Klimt
Posthumous Portrait of Ria Munk III
1917–1918
"This is a posthumous portrait of a woman who killed herself over a love affair," says Baum. Maria "Ria" Munk was the niece of a major patron of Klimt's, and the writer Hanns Heinz Ewers broke off their engagement. "Her family asked [Klimt] to make it, but he couldn't get it right. They weren't happy with it and he did it again and again. And he died with it on his easel."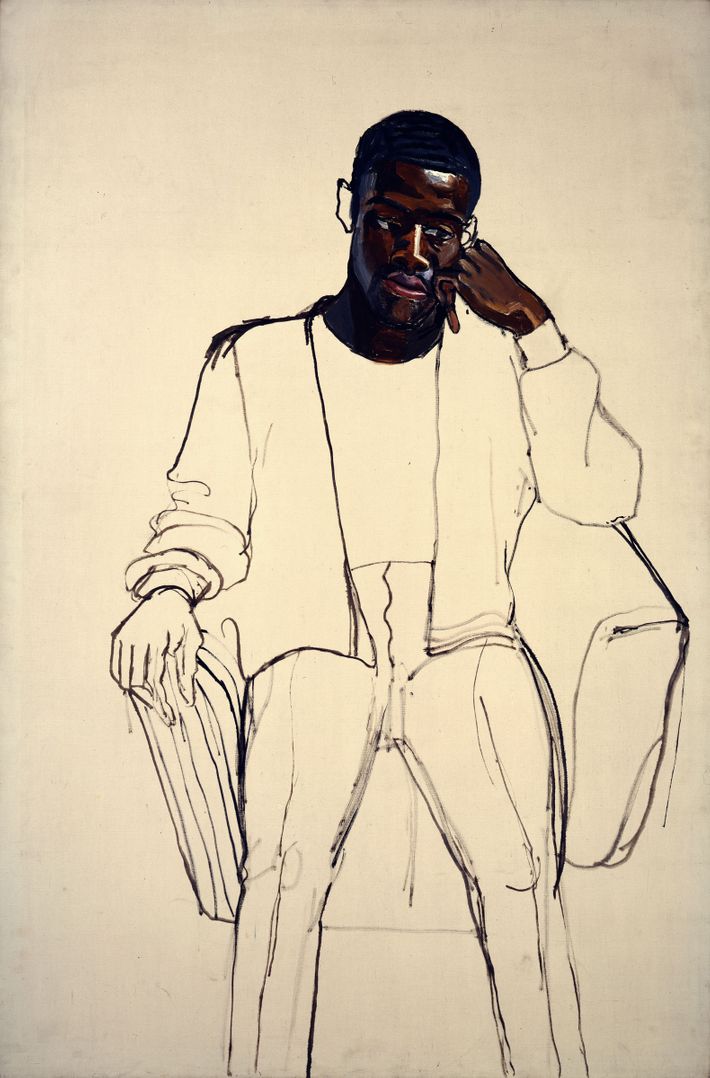 Alice Neel
James Hunter Black Draftee
1965
"She would ask people she didn't know off the street to come in and sit for her," says Baum. "She asked this man James Hunter to pose and he told her he had been drafted for the war. He never came back for his second sitting. She decided she was going to call this painting finished anyway. She signed the back and showed it in the Whitney here in her retrospective in 1974. We don't think he died because his name is not on the Vietnam Veterans Memorial, in D.C. But we don't know what happened to him."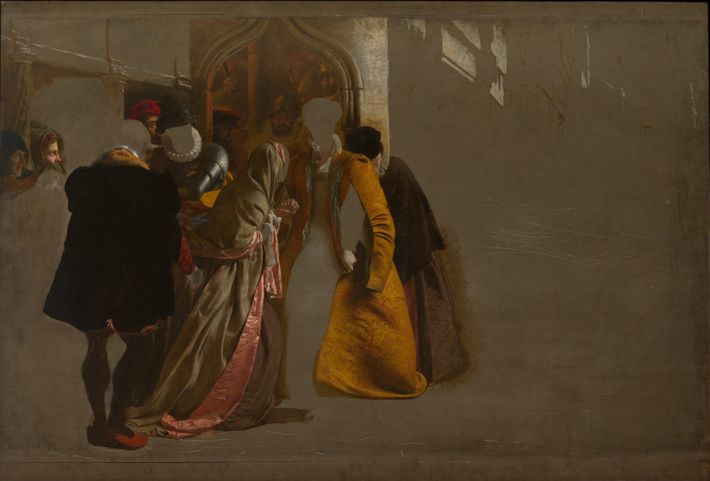 James Drummond
The Return of Mary Queen of Scots to Edinburgh
ca. 1870
"He is a Scottish artist working in a very traditional manner," says Bayer. "We think he stopped because the panel cracked." It shows Drummond's methodical approach to painting: Some parts are complete (notably the architecture and some of the costumes), but other parts, including Mary's face, are little more than graphite underdrawing. A finished version of the same scene, on canvas, is today at the National Galleries of Scotland.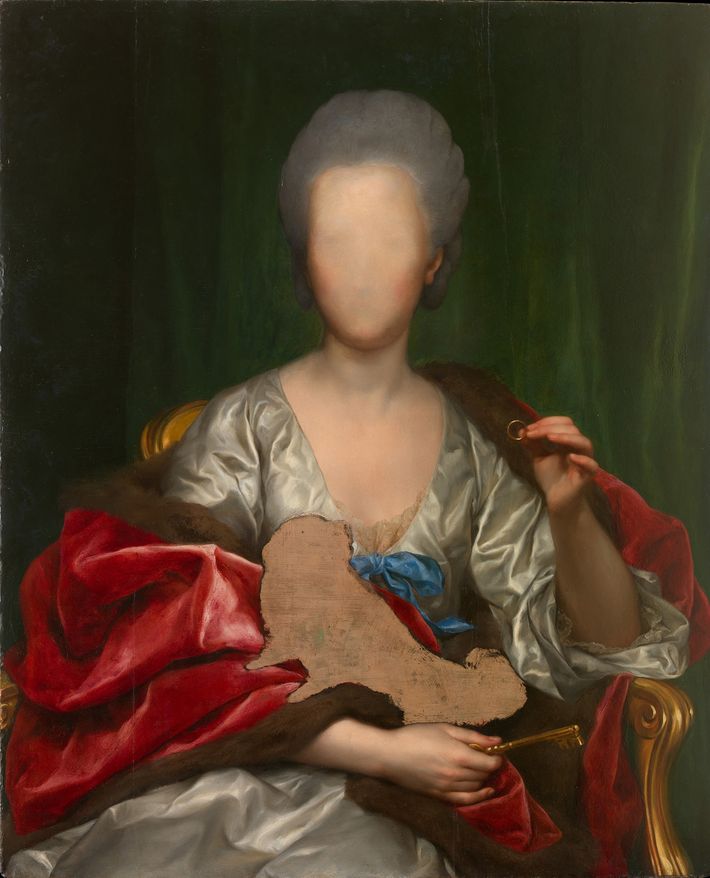 Anton Raphael Mengs
Portrait of Mariana de Silva y Sarmiento, duquesa de Huescar
1775
"The collector Otto Naumann has a personal interest in the incomplete: He is out there looking for unfinished works of art," says Bayer. Naumann also loaned the show this one. Mengs was a very prominent painter of his time — papal commissions and so forth — and it isn't clear why this wedding portrait wasn't finished. "There's the ring, and that would be the faithful dog," Bayer points out, before noting that it was either never painted or scraped out. [The subject's] face looks blurred out, as if she'd gotten caught on a reality-TV-show shoot and refused to sign her waiver. It kind of reminds you of a John Baldessari.

*This article has been corrected to show that Warhol's Do It Yourself (Violin) was not part of his show at Sable Gallery.
*A version of this article appears in the March 7, 2016 issue of New York Magazine.