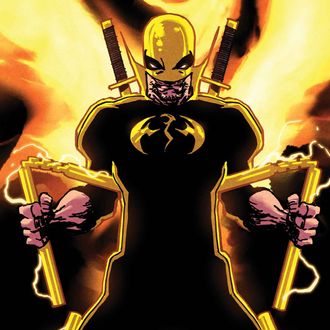 Iron Fist, man of mystery.
Photo: Marvel
Marvel just officially confirmed the reports that Game of Thrones' Finn Jones will play the title character in the upcoming Marvel/Netflix team-up Marvel's Iron Fist, and they paired the announcement with a mysterious out-of-office note left for a character named Joy Meachum. "Who is Danny Rand?" is all it reads. Of course, Marvel addicts know exactly who he is: the extremely wealthy civilian alter ego of Iron Fist. But even hardened fans might not know who this Meachum person is. Short version: In the comics, she's a business mogul who's tied to Rand's company, and a longtime supporting character in his adventures. Given that her secretary appears to not know who Danny is, it would appear that the TV version of Joy either inhabits a world where Danny is an unknown individual, or Joy just needs a new secretary.
Marvel's statement also gives us a wee hint as to how Danny is going to be portrayed on the show, though it keeps things appropriately vague. He apparently "returns to New York City after being missing for years" and "fights against the criminal element corrupting New York City with his incredible kung-fu mastery and ability to summon the awesome power of the fiery Iron Fist." Sort of a Bruce Wayne/Batman type of thing, it would seem. We also get a quote from showrunner Scott Buck: "He's a billionaire New York Buddhist monk martial arts superhero who's still trying to figure out what exactly that all means." You hear that, billionaire Buddhist monks of New York? You finally have a hero just like you.