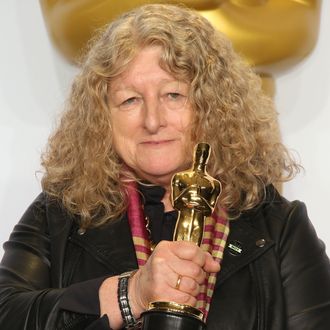 Furiosa would be proud.
Photo: Dan MacMedan/Getty Images
Last Sunday's Oscars saw an unexpected hero emerge from, of all places, the costume-design category. It all happened when Mad Max: Fury Road costume designer Jenny Beavan was met with rapturous confusion, rather than the standard applause, on her way to accepting her Oscar. All because she bucked the tradition of wearing a gown for a more Furiosa-approved biker ensemble. Well, Beavan has seen your Vine, and, new feminist icon that she is, has just the response you'd expect. She tells The Hollywood Reporter, "I don't mind in the least if they didn't clap. People don't have to clap for you; they don't have to like the work." And while she says her skull-bejeweled leather jacket was more an homage to the spirit of Mad Max than an anti-establishment statement (though she also wasn't a fan of Cannes' heels rule), she does hope it encourages women to be more rebellious: "The only thing I would like is for my outfit to have a positive effect on what women feel about themselves. You don't actually have to look like a supermodel to be successful. If that could be a takeaway, I think that would be a good thing. It is really good to have a positive feeling about yourself, because then you can do anything." In other words: Beavan doesn't need your compliment, bitch.