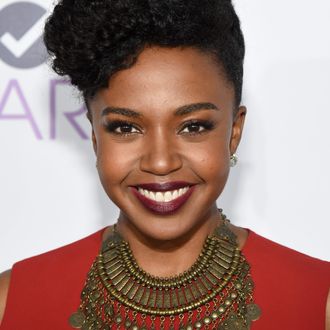 Resident of Shondaland.
Photo: Kevin Mazur/Getty Images
Grey's Anatomy's Jerrika Hinton has been cast opposite Jono Kenyon as the female lead in the pilot of a new ABC comedy, Toast. But Hinton doesn't stray far, as Toast is executive-produced by Shonda Rhimes (of Grey's fame), and written by Scott Foley and Greg Grunberg (Foley is also on Shonda's Scandal).  If Toast gets picked up to series, Hinton's role on Grey's will either have to be cut down, or cut all together. Like with a scalpel! #MedicalShows. Toast tells the story of a couple's complicated courtship through toasts given by their family and friends at their wedding rehearsal dinner. But flashbacks reveal that the anecdotes aren't always 100-percent accurate. This sounds cute as hell. Let's just hope this business venture for Foley and Grunberg goes better than their last.