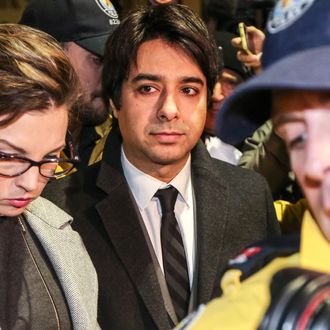 Jian Ghomeshi at his trial.
Photo: David Cooper/Getty Images
Canadian radio host Jian Ghomeshi has been cleared of all sexual assault charges, THR reports. The charges drew from accusations made against Ghomeshi by multiple women who claimed that the CBC host had sexually abused them. In his ruling, Canadian judge William Horkins dismissed the charges against Ghomeshi — four counts of sexual assault and one count of overcoming resistance by choking — arguing the three women who testified in the case were not credible witnesses, thanks to "inconsistencies" and "outright deception" in their stories. "I am forced to conclude that it is impossible for the court to have sufficient faith in the reliability or sincerity of these complainants," Horkins said. "Put simply, the volume of serious deficiencies in the evidence leaves the court with a reasonable doubt." Still, he clarified, "that is not the same as deciding in any positive way that these events never happened." Ghomeshi, who also fronted the indie band Moxy Früvous, has claimed that any abuse that occurred was part of a consensual BDSM arrangement. In a statement, the CBC said it stood by its decision to fire Ghomeshi in 2014.