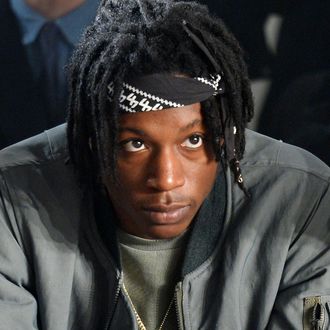 You should already be skeptical.
Photo: Andrew Toth/Getty Images
Mr. Robot is making some interesting tweaks for season two: Brooklyn rapper Joey Bada$$ has been cast as a guest star on the show, making his TV debut as an annoying guy who "often talks excessively to Elliot, advising him and philosophizing the meanings of life." Because what Elliot obviously needs is another voice getting in his head. Bada$$'s character, Leon, will apparently be a "new close friend of Elliot's from the neighborhood," a detail that should already make any Mr. Robot fan skeptical, considering we know Elliot's only real close friends are a fish and a dog. In addition to Joey, the show has promoted both Michael Cristofer (Evil Corp's ruthless CEO Phillip Price) and Stephanie Corneliussen (Tyrell's cunning wife, Joanna) to series regulars. Chris Conroy (Members Only) also joins the cast as the "young, attractive new man in Joanna's life," which doesn't bode well for whatever happened to Tyrell. Grace Gummer has previously been announced as another new cast member for the show's second season, which returns later this year.