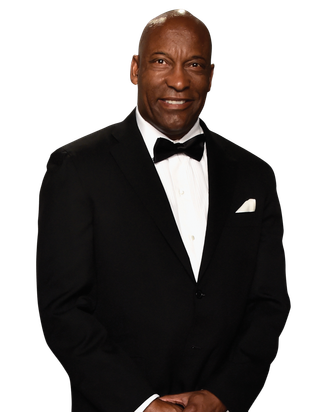 It was an emotional reunion for John Singleton on the set of FX's The People v. O.J. Simpson: American Crime Story. Singleton directed Tuesday night's episode, "The Race Card," which gave him the opportunity to work once again with Cuba Gooding Jr., whom he hadn't worked with since 1991's Boyz n the Hood. "I'm right behind the camera, and I start tearing up, because it just came over me," Singleton told Vulture over the phone. "I had déjà vu of us doing this twenty-odd years earlier." We spoke with the director about his continued foray into television — he's shooting another FX show, Snowfall; collaborating with Ryan Murphy; and his "drop the mic" moment from the episode.
What interested you in coming on to direct an episode of the show?
It's a phenomenal story, and it's a Los Angeles story. I just called up Ryan Murphy and told him, "I've got to be a part of this. I hear you're doing this and I want to be a part of it." And he was like, "Cool."
That's easy. How was it collaborating with him?
Phenomenal. I've learned a lot. This is just the second time I've directed television. I feel like he's helped me out. The first thing I did was Empire, and now this. I feel like I'm getting my tutelage in TV at a very elevated level. For me to be able to work on this kind of project with this kind of cast, this phenomenal cast — I mean, this is the first time Cuba and I have worked together since Boyz, since we were like kids. All the actors including David Schwimmer and Courtney B. Vance and John Travolta and Sarah Paulson, I mean, phew. It's like, Wow. They say that 95 percent of directing is really casting what actors you get, so it really isn't that hard when you really have great actors and good material. It's a dream.
What was it like working with Cuba Gooding Jr. again?
Phenomenal. We both were 22 years old when we did that. He was doing a scene in the jail, the one that I shot in the jail when he was with Johnnie Cochran explaining how he's transitioned and why he has made the choice of doing what he has with his life. As he's giving his emotion, I'm right behind the camera, and I start tearing up, because it just came over me. I had déjà vu of us doing this twenty-odd years earlier. Then afterwards I pulled him over and I said, "Listen," and we looked at each other. It's like damn, like we just had a moment together. We started this journey together. We started in the business together.
Did it give you a chance to reflect on your career since then?
I was just thinking, Wow, it's great to [be with] somebody that I started with, who has had a great career on his own. Cuba and I have been talking; it's going to be the beginning of us collaborating again a lot more often.
As you said, you've been doing more TV lately. Why the shift? What made you want to do TV?
TV is immediate. It's good material, good storytellers, great actors. If we're lucky, we get a chance to do a movie every two or three years. It's difficult sometimes to get a movie made. A lot of times it's difficult to actually get the movies you want made. Television, there's so much product. The viewership is so high. Mind you, when you do a television show, sometimes, if not most of the time, more people see a TV show than see the movie that you make.
The show has a very specific aesthetic. I was wondering if it was hard to come in and do your thing or do something different.
No, it wasn't hard at all. They said "Go and do your thing," and I did my thing. Ryan said episode five was good, so he changed up some things for episode six. I think six was the best episode of everything: "Marcia, Marcia, Marcia" is emotional. Interestingly enough, you stay with that one character a lot. Everyone wrote that woman off as like, just a bitch. But she was going through a lot professionally and personally. That's something that really, really surprised me, seeing that aspect of it. When she comes in and it's suggested that she changes up her look and then she does it and goes through that kind of appearance pressure that women do, and then she does it, and she's ridiculed. You feel for her.
What was your experience with the trial at the time?
Just court TV and seeing, you know, the effect it was having on the city and how tense people were. And coming off of the aftermath of the Rodney King verdict and the riots and stuff. L.A. was a really tense place and tension mounted. You know, if you were making a movie, you couldn't have written it better.
I was also just thinking about, what do you think the value of revisiting this trial is today?
Well, I think it basically puts a mirror up to America. Like, yes, this was going on 20-some odd years ago but it could've happened now, you know?
I particularly loved all the scenes between Sterling K. Brown and Courtney B. Vance.
Oh my gosh, yes! When I read the script, I said, "I've got to do this!" To see those two together and just see the dynamic of them as actors and how they really played out their roles. Like Sterling is a phenomenal Darden. He gives life to Darden. He makes people feel better about Darden than they ever did during the trial. People were very dismissive about Darden. You know what I mean? And Courtney, he just … he is Johnnie!
Is that the episode you wanted to do?
No, I was supposed to do more than one but I have another show with FX called Snowfall, set in 1982, about how cocaine changed Los Angeles. We shot the pilot and we're working on the series right now. I couldn't do it because I had time constraints.
What was your favorite scene to shoot?
My favorite scene is the one where Johnnie and Chris Darden are going head to head in court, where they're adversarial. And, you know, I think Darden had a great, valid point of not wanting to bring the N-word up in the court, but the way Cochran shuts him down so eloquently and does, like, Clarence Darrow grandstanding. I shot that in a way that was like one of those great courtroom dramas.
And the fact that he actually whispered to him, "Nigga please!" (Laughs) Like, he actually did that! He really did that. That was, like, the cap. I had them play it kind of suggestively to the camera. You know, to each other, to the camera. So they're really engaging each other as characters but they're also engaging the whole audience. I just couldn't resist myself to have an actor say that to the American public: "Nigga please." I couldn't, I just couldn't! (Laughs) That's my little rebellious nature. I was like, "Just have him say that!" You break the fourth wall and then he says that and then you're sitting there, watching and go [makes a gasping sound]. As they say in hip-hop, it's like the "drop the mic" moment. Like, okay, you know you're in something different.
It's an electric scene.
Yeah, and then the other scene I like is the fact that, you know, in the opening where he's [Johnnie Cochran's] stopped by this patrolman in front of his daughters. It's emotion without overdramatizing it. It's just there. You really feel for him, you know? And he's trying to stay calm because he wants them to be calm. He doesn't want this to be a traumatic episode for his daughters. Really, that's Ryan Murphy right there. He was going back and forth on how to open the episode. He had it rewritten several times and he said, "This is what we're going to do." And that's the kind of person he is. Ryan's a really, really sensitive person to what type of story he wants to tell. He really surprised me with that. He says, "Check this out." And I read it and I was like, "Man." You know?