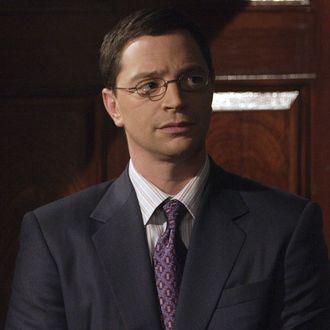 Josh Malina in The West Wing.
Photo: NBC/Getty Images
If you haven't heard Joshua Malina talk about The West Wing, you haven't seen Shakespeare the way it was meant to be done. Back in October, Vulture reported that the Scandal star, who played Will Bailey for four seasons of the political drama, was at work launching a West Wing podcast; now, it appears, he's finally gotten it off the ground. "It's here, I wasn't trolling," Malina tweeted on Wednesday, announcing the premiere of The West Wing Weekly. Alongside his co-host Hrishikesh Hirway, Malina will spend the podcast going through every episode of TWW, "Gilmore Guys"-style. Plus, he says, there will be special guests, including more former West Wing stars. Cue up "Ave Maria," and let a single tear of joy stream down your face.