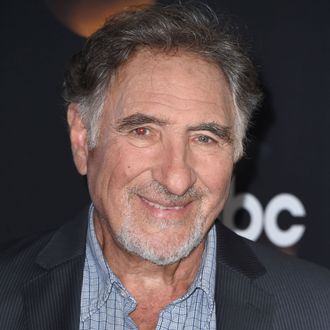 Not an ordinary person.
Photo: Steve Granitz/Getty Images
Leonard has Christine Baranski for a mommy, and now Judd Hirsch for a dad? This guy's got everything! After Johnny Galecki (Leonard) met Judd Hirsch at NBC's James Burrows tribute, Galecki invited Hirsch to play the part of Leonard's father on The Big Bang Theory. And Hirsch, never one to turn down a polite invitation, we've heard, accepted! It's been official as of Wednesday. All we know about Leonard's dad so far is that he's ananthropologist, and that he was not affectionate towards Leonard. Hmm … an unaffectionate anthropologist? A little cliché, but Hirsch can probably make it work. Plus, Hirsch and Baranski were both on The Good Wife together (for one episode) so their chemistry is probably off the charts. Maybe they'll even share a taxi to set. Hopefully it's not running on empty. Or else they'll have to drive themselves, like ordinary people. Okay, we're done.