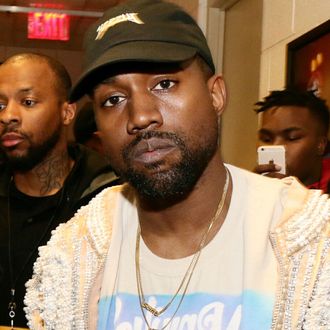 Yeezus has spoken.
Photo: Jamel Johnson/MediaPunch/Corbis
In the ongoing saga that is The Life of Pablo's current state of consumption, we now know at least one other way you'll never be able to hear it. Kanye has announced, via tweetstorm, that Yeezus was his final physical CD — meaning you'll never be able to insert TLOP into the disk drive your laptop doesn't have, just like you'll never be able to buy it with the money you wouldn't spend on music anyway. From now on, Kanye says all his albums will be streaming exclusives, which is the only form in which TLOP has been available since its haphazard release (minus all those illegal downloads).
Kanye isn't so much starting a trend here as he is riding an already-mounting wave: Adele being the lone anomaly here, CD sales are still in rapid decline, while streaming continues to make gains, as more and more platforms take off. (Not even Starbucks sells CDs anymore!) And digital downloads aren't exactly faring much better either, which might also be why Kanye has snubbed iTunes and even Tidal downloads this album cycle. Kanye may want to rethink the streaming-only mentality, though, because nostalgia is hot right now: Vinyl sales are on a major uptick, while those who own the last remaining Walkmen on Earth are still buying tons of cassette tapes. So by the time #Kanye2020 rolls around, CDs should be back on trend.