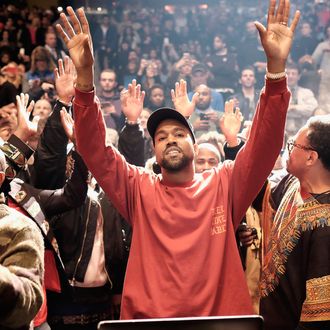 Yeezus provides.
Photo: Dimitrios Kambouris/2016 Getty Images
Turns out Kanye had a few Easter presents for us this year. As Pitchfork pointed out, West's "Famous," which features Rihanna and name-drops Taylor Swift, was the first Life of Pablo track to receive a wider release. (It's the updated version.) Other early reports wondered if the Pablo amuse-bouche meant there'd be more of the album on the way, but Kanye and the streaming services held back on issuing official comments. Spotify positioned "Famous" as a single on Yeezy's artist page and promoted it via "Rap Caviar" late Easter Sunday. Praise be, kind of:
Update: "I Love Kanye" surfaced on competing streaming sites Wednesday, making it the second Pablo "single" to exist elsewhere. The song came one day after Tidal revealed its users played Pablo more than 250 million times in ten days. The entire LP was still only streamable via Jay Z's service — but, according to Pitchfork, select users were getting a chance to download the album. "The latest version of The Life of Pablo [all the subtle tweaks chronicled here] is now being delivered to the individuals that purchased it originally, as well as to those who in some cases did not receive a download link at the time of the album's release," a spokesperson explained. "Customers that received a refund will also receive a download link as a courtesy from Tidal.com." And Mashable added that the rest of Pablo (in a move that would break Ye's exclusivity promise) would hit Spotify, Apple Music, and Google Play, among other platforms, on Friday.
Update No. 2: Kanye once again "fixed" Pablo, tweaking several songs on Tidal, as Reddit discovered. "Ultralight Beam," for example, now has an additional line ("No one can judge") on Chance the Rapper's verse.
Update No. 3: The New York Times confirmed Thursday that "a newly updated, remixed and remastered version" Pablo would debut on all major streaming services by midnight.
Update No. 4: You can now listen to Pablo via Spotify and competing streaming services:
KanyeWest.com has digital downloads available for purchase, too. "In the months to come, Kanye will release new updates, new versions, and new iterations of the album," read a statement from Def Jam early Friday morning. "An innovative, continuous process, the album will be a living, evolving art project."
In addition to the album, a previously unreleased track, "Saint Pablo," leaked late Thursday night. It's the song Yeezy reportedly flaunted at Yo Gotti's listening party earlier this year; British singer Sampha lends a hand on vocals, and the lyrics reference a handful of the rapper's recent headlines. "I wrote Saint Pablo after admitting to my greatest shame my personal debt," Kanye tweeted at the end of February. "But I'm not ashamed anymore."
"My wife said I can't say no to nobody / And at this rate we gon' both die broke," Ye raps. "People tryna say I'm goin' crazy on Twitter … I know I'm the most influential / That Time cover was just confirmation." While many sites have been ordered to take "Saint Pablo" down, it might still be streamable here.
This post has been updated throughout.