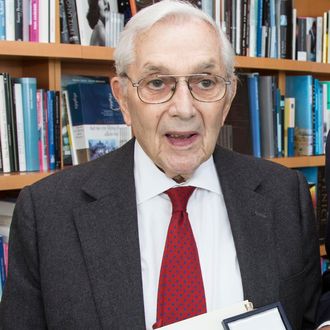 Adam.
Photo: Pool/2012 Getty Images
Ken Adam, the visionary production designer best known for his Stanley Kubrick and James Bond work, died Thursday while sleeping at his London home. The 95-year-old's biographer, Christopher Frayling, confirmed the news with the BBC. "He was a brilliant visualiser of worlds we will never be able to visit ourselves," Frayling said. "He created an image of them that was more real than real itself."
The German-born Brit devised the memorable war room in Stanley Kubrick's Dr. Strangelove, gave life to the original Chitty Chitty Bang Bang, and defined the looks and lairs of the early Bond films. In 1995, along with Carolyn Scott, Adam won an Academy Award for transporting moviegoers to the world of The Madness of King George. It would be his second and last Oscar (after Barry Lyndon), coming near the end of a roughly five-decade career that racked up credits on such films as Dr. No; Goldfinger; The Ipcress File; Goodbye, Mr. Chips; Diamonds Are Forever; Moonraker; Addams Family Values; and The Out-of-Towners, among many others. For his dedication to his craft, Adam also received the Art Directors Guild's Lifetime Achievement Award, in 2002; a knighthood, in 2003; and the ADG's Cinematic Imagery Award, in 2013. He's survived by his wife.