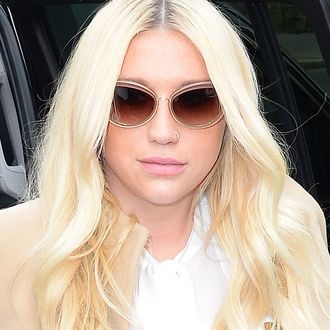 Kesha.
Photo: Raymond Hall/Getty Images
Kesha has filed an appeal after losing an injunction against Dr. Luke last month that requested she be freed from her contract with his label. Her lawyers submitted paperwork to the New York appellate court on Monday requesting that Justice Shirley Kornreich's decision be overturned and that her contract be terminated. In her appeal, Kesha is arguing that the judge was mistaken in basing her decision on the idea that she can record without Luke's direct involvement. Her lawyers claim that keeping Kesha under contract with her alleged abuser is, in a sense, a form of slavery: "Although it recognized that 'slavery was done away with a long time ago' and that 'you can't force someone to work … in a situation in which they don't want to work,' the Court's ruling requiring Kesha to work for Gottwald's companies, purportedly without his involvement, does just that," the appeal reads.
The appeal also challenges the judge's explanation that "irreparable harm" had not been caused against Kesha, using statements from industry experts who say her fame will "fade quickly" if she cannot freely work in the music industry. Earlier this month, Sony was reported to be in talks to drop Dr. Luke from the label, which Luke has since denied, as he has all allegations against him. A hearing for the appeal has not been set yet.