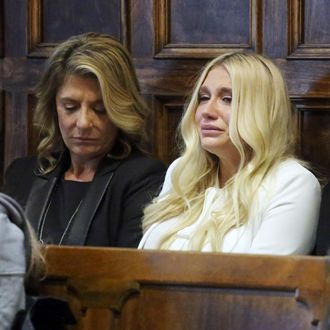 Pebe Sebert and Kesha in court.
Photo: Jefferson Siegel/Daily News, L.P./Getty Images
Kesha's mother, Pebe Sebert, has been at the singer's side throughout her legal battle to get out of her contract with Dr. Luke, the producer Kesha claims abused her for years. Now, in a long interview with Billboard, Sebert gives her perspective on Luke's long and twisted history with her daughter, including an alleged sexual assault after Nicky Hilton's birthday party in 2005. (Sony, which has its own deal with Luke, tells Billboard its internal investigation turned up no evidence of the assault.) Pebe says she knew something was wrong the day after the party, when Kesha uncharacteristically ignored several of her phone calls. Finally, her mother says, she called back to say she had woken up naked, "sore and sick," in Luke's hotel room.
"Looking back, I don't know why we didn't go to the police," Sebert says. "Kesha told me not to do anything. She said, 'Mom, I just want to sing. I don't want to be a rape-case victim. I just want to get my music out.' I didn't follow my instincts." She adds that Kesha's contract with Luke forced her to stay silent for years. "If she wanted to have a shot at the music business, she had no choice but [to work with him]." (Sebert does not address Luke's claim that both she and Kesha denied the abuse occurred while being deposed for a separate lawsuit in 2011.)
Sebert adds that Kesha tried to get away from Luke, but her efforts to sign with other labels were always thwarted by the contract with Luke, which insiders add is "ironclad." She remembers Kesha calling her one day in distress after a meeting with Warner Bros. went nowhere: "Anytime I get a contract, he's going to come forward and basically say he owns me. What do I do?"
The relationship did not get better after Kesha's career took off. "This is when Luke started getting really hateful," Sebert says. "He saw her as a cash cow and started manipulating her all the time. She thought all her dreams were finally coming true, but this was just a f—ing trip to hell." She describes a years-long gaslighting process that made Kesha emotionally dependent on him. "It was like someone who beats you every day and hangs you from a chain and then comes in and gives you a piece of bread," she claims. "Luke would say, 'You look nice today,' and send her into ­hysterics of happiness because she was programmed to expect nothing but abuse."
The break finally came after Kesha completed rehab for an eating disorder. "She couldn't go on as a healthy person" while still under Luke's sway, Sebert says, adding that her daughter realized she wasn't "willing to be a victim" anymore. She says she and Kesha both have been surprised and warmed by the support the singer's received from her fellow artists, including a $250,000 donation from Taylor Swift. "It was really random," Sebert says of the donation, news of which came through an email from Swift's publicist. "Kesha was like, 'Are you sure it's not some scammer?' And then she said, 'I would be honored if she wants to do that.' "