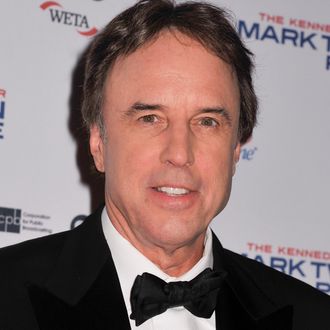 Nealon.
Photo: Kris Connor/Getty Images
In a new interview with THR, Kevin Nealon reminisces about his long friendship with Garry Shandling. Nealon, who was close to the late comedy pioneer for nearly four decades, recalls some of the basketball games, hikes, and brainstorm sessions they shared. "The thing that I miss about him is that I always knew he was up there," the SNL alum says. "He lives about ten minutes away from me. It's like he was a lifeguard. If you had a problem, a joke, or if you wanted to go for a hike, he was always there, he was always around."
A longer excerpt:
We talked about life and death and we talked about women and comedy and movies and everything. When you're with Garry, there is never anything not to talk about. I was looking at some of my past emails from Garry, and I'm feeling nostalgic. I was in Denver about 8 months ago working a corporate gig. I said to Garry on the phone I need this joke about the CEO or something, and he goes, okay what's the guy do, he'd sit and just talk with me. He'd come out with two or three great jokes. He emailed me back later, and this was seven months ago, he goes, Denver is a good town but when you come back, we have to go hiking and I mean it, because we hadn't been hiking in awhile. He said, Before I die, we gotta get back on stage together, and he said, Even if I do die, just drag my body on stage — I know you will either way. Like a lot of comics, he could be dark.
You can read the whole as-told-to piece, which also mentions yesterday's impromptu basketball memorial, here.