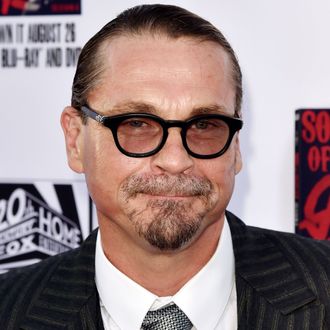 Kurt Sutter.
Photo: Kevin Winter/Getty Images
Kurt Sutter, the man who created the lugubrious Bastard Executioner and then canceled the show, via full-page ads in Variety and The Hollywood Reporter, because "Nobody's fucking watching," has blood lust. Dude loves his entertainment bloody and brutal — even his boxing movie, Southpaw, is a debbie downer. Now the Sons of Anarchy writer/director/actor is creating a comic book for BOOM! Studios, Variety reports. 
Lucas Stands concerns, in Sutter's words, "a former military special-ops guy who has done, in the service of his country, some really heinous and violent things, and when he comes back, the integration into society becomes increasingly more difficult for him … he reaches a very low point in his life, and it's at that point where he intends to take his own life and he's approached by an entity that makes him a deal." He becomes a "hitman from hell" who slays demons to clean his slate. So … he's basically another violent anti-hero trying to redeem himself, which is exciting. The six-issue series, which Sutter is writing with Caitlin Kittredge (Coffin Hill), with art by Jesús Hervás (Clive Barker's Hellraiser), will launch on June 6, in tangible and digital formats. You can see Lucas Stand, who looks a lot like John Constantine with his gun and whiskey and tan jacket and loose-dangling tie and all that ominous fire enveloping him, below.