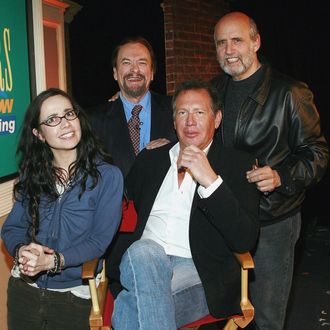 The cast of The Larry Sanders Show in 2006.
Photo: Riccardo S. Savi/2006 Riccardo S.Savi
Garry Shandling, who passed away earlier today, made his name in stand-up, but solidified his legacy through the guise of another name on The Larry Sanders Show. The HBO late-night parody, which ran from 1992 to 1998, centered on Shandling as Sanders, the exhausted host of a talk show that featured celebrities playing funhouse-mirror versions of themselves and a supporting cast that included Janeane Garofalo, Bob Odenkirk, and Jeremy Piven. Now, thanks to a deal with HBO that Shandling negotiated before his death, Larry Sanders will return to the network and appear for the first time on its streaming services, HBO Go and HBO Now. The Larry Sanders Show was available on Sony's Crackle until two months ago, when that service lost the rights. Currently, episodes of the series are available for purchase on iTunes and Amazon, while The Larry Sanders Show is also available on DVD.