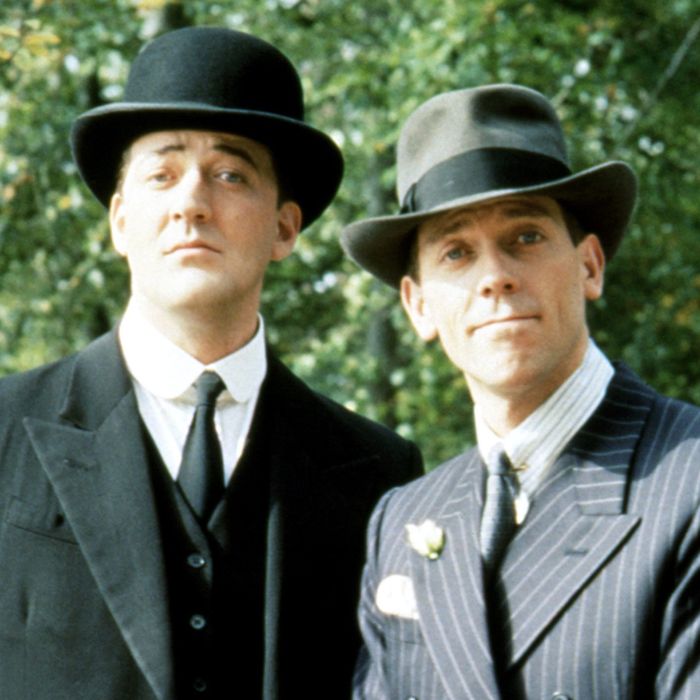 Stephen Fry and Hugh Laurie as Jeeves and Wooster.
Photo: ITV/Everett Collection
There's no doubt that we Yanks have been spoiled with a steady import of fantastic British dramas in recent years, none more ubiquitous than Downton Abbey, which ends its six-season run on PBS Sunday. But what can our friendly neighbors across the pond offer in the comedy department? Whether you prefer a standard sitcom set-up, sketch show, or more surrealist narrative, it's a celebrated fact that the Brits know how to create damn good comedy programs across all possible formats. We've already highlighted some of the best dark British comedies for you to enjoy, but if you're not in the mood for a general feeling of malaise, we put together a list of lighter recommendations, available to stream right now.
The IT Crowd
What's it about? The IT Crowd follows the many misadventures of the sole IT department employees at the fictional Reynholm Industries in London. Socially awkward, tech-savvy geeks Moss (Richard Ayoade) and Roy (Chris O'Dowd) have been newly paired to work with a chipper and ambitious "relationship manager" named Jen (Katherine Parkinson), despite her not knowing anything about technology — which, as you would expect, leads to consistently amusing disarray.
How light is it? Plotlines include: "electric sex pants" and an addiction to a social-networking website called Friendface. So, very silly. (And not strictly about technology, either.)
Where can I watch it? Hulu, Netflix
Fawlty Towers
What's it about? Basil Fawlty (John Cleese, in top form) and his wife, Sybil, own and attempt to run a hotel, Fawlty Towers, in a quaint seaside town, with the help of their competent maid and waitress, Polly, and their constantly disoriented waiter, Manuel. If the taxing guests and the curmudgeonly misanthropic Basil are any indication, things do not go smoothly. Ever.
How light is it? Similar to Cleese's Monty Python's Flying Circus years before, the heart of the humor stems from farce, innuendo, and intellect. Basil's naturally aggressive personality doesn't exactly scream "light-hearted" — we get those playful elements from Sybil and Manuel.
Where can I watch it? Hulu
That Mitchell and Webb Look
What's it about? The goofy double act of David Mitchell and Robert Webb created That Mitchell and Webb Look to further explore their signature comedic style in a traditional sketch-show format. Expect recurring sketches such as "The Surprising Adventures of Sir Digby Chicken Caesar" and the above "Numberwang," as well as other unconventional one-offs.
How light is it? Very. And Mitchell and Webb are so damn likable.
Where can I watch it? Hulu
Spaced
What's it about? Tim (Simon Pegg) and Daisy (Jessica Hynes), professionally down on their luck, have a chance meeting in a café where they discover they're both in dire need of a new apartment. They decide to lie about being a professional and married couple in order to obtain an inexpensive flat and embark on life's many adventures together as friends, which often involve their suspicious and frequently inebriated landlady, their borderline-sociopathic artist neighbor, Daisy's superficial best friend, and Tim's Army-loving best friend (Nick Frost).
How light is it? Spaced is grungy, and each episode is peppered with complex pop-culture references. If you're a fan of Pegg and Frost's "Cornetto Trilogy" (Shaun of the Dead, Hot Fuzz, The World's End), then put this at the top of your streaming queue, but if you're not a fan of the slacker-comedy genre, this may not be for you.
Where can I watch it? Hulu, Veoh
Gavin & Stacey
What's it about? A very sweet romantic comedy, Gavin & Stacey tells the story of Gavin, a practical guy living in England, who has a long-distance, whirlwind relationship with Stacey, a cheerful woman living in Wales. As their relationship progressively gets more serious, the dynamic between their respective family and friends (not to mention their cultures) while merging as "one unit" is funny and often poignant. James Corden also starred in and co-wrote the series, way before his Late Late Show days.
How light is it? As light as your standard rom-com, complete with the usual bumps in the road that plague long-distance love affairs. The banter is particularly cheeky, too.
Where can I watch it? Hulu
Absolutely Fabulous
What's it about? Edina Monsoon (Jennifer Saunders) and Patsy Stone (Joanna Lumley) are two drug-abusing, alcoholic, middle-aged women who still maintain their respective jobs in public relations and fashion despite their outrageous and self-absorbed  "I-need-to-stay-young-and-hip" antics. Don't be fooled by the show's lone voice of reason, Edina's daughter, Saffron, though — it's all in good fun. Right?
How light is it? Oh, sweetie darling! Grab a cocktail and a Xanax. Ab Fab is about as as vivacious and crazy they come.
Where can I watch it? Hulu
I'm Alan Partridge
What's it about? As a television presenter, Alan Partridge (Steve Coogan) was so lacking in decorum, he was fired for punching a BBC editor with a stuffed partridge (the show, Knowing Me, Knowing You With Alan Partridge briefly aired on the BBC in the mid-'90s, and before that was a radio show). Now decamping to Norwich to present a local evening radio-program, his various exploits are a spot-on parody of modern entertainment personalities and the odd trials they face.
How light is it? Partridge's narcissism, coupled with his general ineptitude and lack of basic social skills, may make him seem like an unlikable character, but his delusions of grandeur are actually quite endearing. If you like Ron Burgundy, you'll like Alan Partridge.
Where can I watch it? Hulu, Veoh
Peep Show
What's it about? Once again from the strange comedic minds of David Mitchell and Robert Webb, Peep Show follows two friends, the melancholy Mark (Mitchell) and the freeloader Jeremy (Webb), who share an apartment in London despite being polar opposites — and in an interesting narrative twist, both character's inner thoughts and ramblings can be heard by the viewer.
How light is it? It's not happy-go-lucky and can even be quite grim, but the style here is what lightens the mood: The constant stream-of-consciousness chaos in the duo's lives make the show funny on a relatable level.
Where can I watch it? Netflix, Hulu
The Inbetweeners
What's it about? The painfully realistic coming-of-age sitcom finds four suburban teenagers — Will, Simon, Jay, and Neil — trying to survive comprehensive school while simultaneously trying to climb the social ladder, avoid bullies, get girls to have sex with them, and stay sane. What could possibly go wrong?
How light is it? The Inbetweeners is certainly the silliest and most juvenile show from this list, and because of that it's not going to be everyone's cup of tea. But if you want to hear terms like "bus wankers" and "bumders" tossed around frequently and with great fervor, this will certainly be a treat.
Where can I watch it? Netflix, Hulu
Little Britain
What's it about? David Walliams and Matt Lucas created Little Britain, a character-comedy sketch show (originally a radio program), to depict a seemingly parallel universe of England that pokes fun at all different types of British people. Between the dignified narration style and the absolutely bonkers characters, it's a spot-on parody of modern British life.
How light is it? This is the ultimate self-deprecation show. If you're easily offended, turn back now.
Where can I watch it? Hulu
Blackadder
What's it about? Each season of Blackadder follows the titular Edmund Blackadder (Rowan Atkinson) as he navigates a different period in British history while trying to increase his status in society. Despite the four seasons ranging in date from Medieval England to the First World War, each of the Blackadder incarnations comes from the same family dynasty and embodies common personality quirks — although Blackadder's status becomes increasingly worse with each season.
How light is it? Blackadder is quite the cynical, clever fellow, with a penchant for colorful insults and irreverent banter. But alongside the slapstick humor, his dim-witted sidekick Baldrick, and doltish aristocrats, the show rounds out to be a solid 50-50 of light and dark.
Where can I watch it? Hulu
Father Ted
What's it about? Three priests are banished to the fictional Craggy Island in Ireland for past indiscretions, where they live together in a clergy house with the assistance of an overzealous housekeeper. A lethal combination of the morally ambiguous Father Ted, the childlike Father Dougal, and the raging alcoholic Father Jack attempt to bring harmony and stability to their parish and the island, but most of the time it doesn't work out.
How light is it? This is your standard, easy-to-follow sitcom, which follows the set-up of "normal person surrounded by and forced to interact with the crazies and weirdos that live in close proximity."
Where can I watch it? Hulu, Veoh
Jeeves and Wooster
What's it about? An adaptation of P.G. Wodehouse's classic stories, the series follows a dim aristocrat Bertie Wooster (Hugh Laurie) and his highly intelligent valet, Jeeves (Stephen Fry), whose chief purpose is keeping his master out of trouble. Still, things often go wrong, of course.
How light is it? Fry and Laurie are one of the best double-acts England has to offer. The natural dynamic between the two is often sardonic and cheeky, which is highlighted here by Wooster's often-bumbling adventures with his merry band of blue-blooded friends, and Jeeves always intervening to keep things at bay. It's also a good reminder that Laurie was — and still is — an excellent, Cambridge-trained comedian before his House years.
Where can I watch it? Hulu