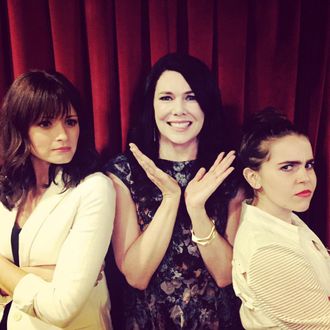 Alexis Bledel, Graham, and Whitman. Can you handle it?
Photo: maebirdwing/Twitter
What kind of sibling rivalry transpires when two TV universes that have one TV mom in common cross paths? That's a question we'll get to see play out now that Mae Whitman has joined Netflix's Gilmore Girls revival, TV Line reports. She's set to cameo in a "small moment with [Lauren] Graham that will delight Parenthood fans." Now, this may come as a shock to those of Gilmore fandom, but after raising Rory, Lorelai had a whole other life over on Parenthood, where Graham played heroic TV mom Sarah Braverman to Whitman's Amber Holt. Blasphemy, we know! The three have met IRL for one marvelous reunion photo, but just how does Graham prepare for that awkward moment when Rory finds out she's not exactly Lorelai's only child? There's only so much coffee and takeout in Stars Hollow you can order for such news; Lorelai's screwed. Could this be the "beyond" scene Sutton Foster teased? We can only dream.