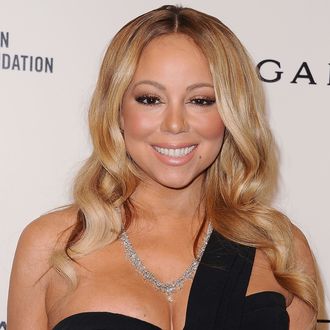 Emancipate this show now!
Photo: Jason LaVeris/Getty Images
She said it couldn't be done, but, lo and behold, a Mariah Carey reality show is finally happening after overwhelming demand, reports Us Weekly. You did it, Lambly! Sources tell Us that the show, which has the working title Mariah's Squad (because of course it does), will follow the behind-the-scenes workings of Mariah's Las Vegas residency, upcoming tour, greatest hits album, and all the shenanigans of divadom. Like, for example, being wheeled to the stage when your feet are too close to God to touch the ground like some peasant. "The show is also about Mariah and the crew around her. It's nuts. Mariah is very funny on camera," says the source, who is obviously forgetting that we all saw the true originator of reality TV in peak hilarity on that iconic episode of MTV Cribs way back when. Mariah also directed a Hallmark Channel holiday movie last year, so being hilarious is not exactly a stretch for her.
Expect the show, which doesn't yet have a network attached (Mariah's managers produce shows for both E! and VH1) or a release date, to drop just as soon as that woman she still doesn't know ends her American Idol run. Because there can only be one queen of reality TV, and her name is Mimi.
Update: E! has officially announced its Mariah Carey reality show, an eight-part docuseries called Mariah's World (not Squad, sadly), which will follow her around as she tours the world and plans her upcoming wedding to Australian billionaire James Parker. "I'm excited to bring my fans into my life for the next journey I'm about to embark on," Mariah says in a press release. "I'm already having so much fun with this documentary and I know you will too. There is nothing like capturing these moments." And we're already having so much fun imagining all the legendary shade the world isn't ready for.