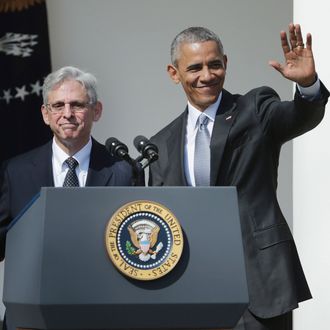 Two nerds.
Photo: Chip Somodevilla/Getty Images
Fresh off the news that President Obama has apparently used The Dark Knight as a metaphor for dealing with ISIS, we now have reason to believe the commander-in-chief and his new Supreme Court nominee, Merrick Garland, were both comics dweebs back in the day. More importantly, they allegedly both had to suffer through a trying ordeal: selling their comic-book collections while in dire financial straits. Obama dropped his four-color bomb during this morning's speech announcing Garland's selection:
And he put himself through Harvard Law School by working as a tutor, by stocking shoes in a shoe store, and, in what is always a painful moment for any young man, by selling his comic-book collection. It's tough. Been there.
We eagerly anticipate the Senate grilling the centrist appeals-court veteran on whether he was more of a Marvel or a DC guy.