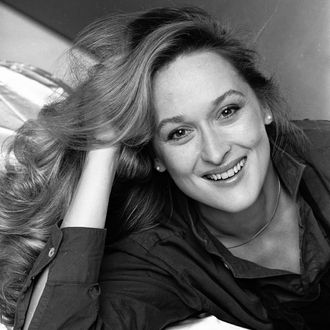 She's perfect.
Photo: Jack Mitchell/Getty Images
It seems as though Meryl Streep is just as amazing as we've always thought and hoped and dreamed she was, but Dustin Hoffman, well — Dustin Hoffman needs work. At least he did in 1978. In a piece for Vanity Fair, adapted from Michael Schulman's upcoming biography of Streep, Her Again: Becoming Meryl Streep, Schulman recounts the making of Kramer vs. Kramer. It was the film that won Streep her first Oscar and, yes, it would seem clear that Streep could handle the role of Joanna on her own. However, Hoffman took it as his responsibility to get the reactions he wanted from the actress in various infuriating ways.
Before shooting one scene, Hoffman surprised Streep by slapping her across the face. In other scenes, he would provoke her by making comments about her ex-boyfriend John Cazale, who had died earlier that year from cancer. He also unexpectedly shattered a wine glass, getting glass shards in Streep's hair. (Of course, cool-as-a-beautiful-famous-cucumber Meryl Streep said, "Next time you do that, I'd appreciate you letting me know.") But it was obvious to almost everyone except Hoffman that Streep didn't need any of Hoffman's method-acting "assistance." By the last scene, director Robert Benton said, "Part of the pleasure she must have taken is showing to Dustin she didn't need to be slapped. She could have delivered anything to anybody at any time." Ah, but is that really true? Hm. Maybe we should ask her other two Oscars.
Read the full Vanity Fair piece here.