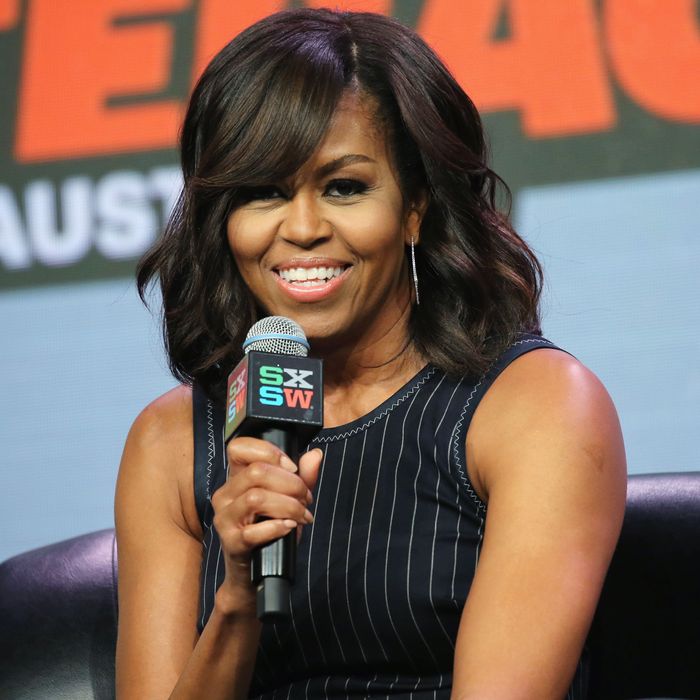 Michelle Obama kicks off the music festival.
Photo: Neilson Barnard/Getty Images
Michelle Obama came to South by Southwest to raise awareness for her global education initiative, Let Girls Learn, but the music festival's keynote discussion she anchored — which was moderated by Queen Latifah, and featured Missy Elliott, Sophia Bush, and Oscar-nominated songwriter Diane Warren — doubled as a star-powered demonstration of Shine Theory at work.
Shine Theory stresses the importance of women supporting other women. The core of the "shine" lies in the infectious nature of confidence, and how finding pride and joy in the endeavors of your fellow women will not only make you a happier person, but dampen the self-doubt and insecurity that can stifle the pursuit of success. This group of women ruling SXSW's main stage on Wednesday afternoon spent an hour spotlighting the importance of education, activism, and community involvement, and they did so while gushing about each other's individual cultural and political accomplishments.
In one moment, Bush and Elliott were praising Queen Latifah's trailblazing output as a pioneering emcee in the largely male world of hip-hop; the next, Queen Latifah was dishing out puns at her own expense ("It's weird to write 'Ladies First' and then to be sitting with the First Lady — it's surreal!") and raising compelling questions about affecting change on a small scale and harnessing girl power for the greater good. If Obama bolstering Elliott's personal anecdotes about overcoming intense hardship with a "Go IN, Missy!" isn't that shine verbalized, what is?
Beyond exchanging compliments, these women succeeded in relating the mission of Let Girls Learn — to aid young girls in completing their secondary school education across the globe — by opening up the discussion to the big picture. Queen Latifah recalled how she was inspired to get involved with drug abuse- and AIDS-awareness-programs after a crack epidemic raged in her neighborhood and she lost two cousins to the disease: "My only way to try to affect [change] was make a record about it and be involved in things, whatever we could do, to get the word out there and get information to people. It was the little action I could take as a teenager, but it meant a lot to me."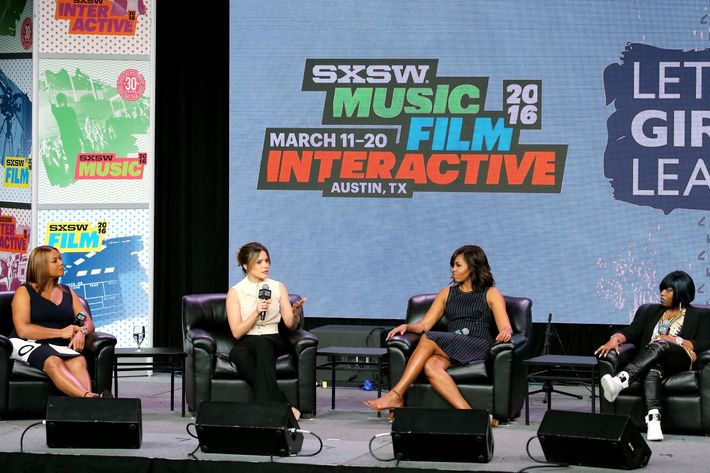 After sharing stories of her own troubled childhood and watching her mother get out of an abusive relationship, Elliott further emphasized that she and her co-speakers all worked through various difficulties to get where they are: "All of us up here are a walking testimony. Young girls can see that you can become something. All hope isn't gone because someone told you you're not going to make it … [Michelle] didn't just become the First Lady without a struggle. [Diane] didn't just become a great songwriter without a struggle. [Sophia] didn't just become an actress without a struggle."

Obama, speaking on that theme, drew a straight line from her experiences growing up to Let Girls Learn, in that her childhood informs her desire to provide young girls with opportunities instead of taking them away. "Growing up as a black girl on the South Side of Chicago, where the expectations for me were limited, I was trying to make my way … There were always people around me telling me what I couldn't do. My reaction at the time was to prove the doubters wrong. Not every young person reacts to that that way. There are many young people whose dreams get snuffed out with that negative energy."

In that vein, the objectives of Let Girls Learn don't stray too far from the practice of Shine Theory and the conversation it sparked at SXSW. "This Is for My Girls," a song inspired by the organization, was released on Wednesday in connection with the First Lady's keynote. It was written by Warren and recorded by an all-woman ensemble, including Elliott, Kelly Clarkson, Zendaya, Janelle Monáe, Lea Michele, Kelly Rowland, Jadagrace, and Chloe and Halle, who warmed up the keynote's audience with a performance of the track. Elliott's verse, in particular, stands out as the lines that cut to the core of the First Lady's mission: "Pass the mic, pass the mic, ladies come through / Don't ever, ever let 'em stop or try to block you / You better tell 'em you somethin', better than any of 'em / You never settle, you next level, yeah, you makin' moves." It may be a theme song for Let Girls Learn, but it doubles as a Shine Theory anthem, too — and Missy just happens to go IN for both.
As for each panelist's own personal anthem, they took turns sharing the music that influenced their lives:
Missy Elliott: "People like Queen Latifah, MC Lyte, Salt-N-Pepa, these women are the reason I am an emcee."

Sophia Bush: "Queen Latifah's 'U.N.I.T.Y.' … This notion that, especially for [Queen Latifah and Missy Elliott], to be women on the forefront of your industry, on your own, not in somebody else's band, killing the game and saying things, that mattered so much."

Diane Warren: "The Beatles and Motown. The finest, fine-tuned genius — that influenced me so much."

Michelle Obama: Stevie Wonder's Talking Book, which she received as a birthday gift from her jazz-loving grandfather, and then Wonder's Songs in the Key of Life. "He talked about unity, and love, and peace — all of his songs were empowering. They were songs that pushed you to look at change."
Queen Latifah: "Stevie Wonder would be probably my all-time favorite, because he's had a song for every point and purpose in my life and anything I've gone through."