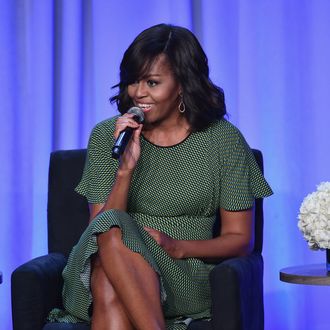 "This Is for My Girls," a star-studded song Michelle Obama commissioned for charity, hit radio stations, and online marketplaces, debuted on Tuesday. Diane Warren wrote the jam, which features Kelly Clarkson, Chloe x Halle, Missy Elliott, Jadagrace, Lea Michele, Janelle Monáe, Kelly Rowland, and Zendaya (no MObama vocals, sadly). "It's kind of like 'We Are the World' meets 'Lady Marmalade' with these strong voices and strong women," Warren told Billboard after it debuted. "I think it can be a huge worldwide anthem. I hope it becomes that."
"Girls" plays as an empowering call to action, one ultimately aimed at raising education-inequality awareness. "This is for my girls, all around the world / Stand up, hold your head up / Don't take nothing from nobody," the chorus rings. "This is for my girls, stand up and be heard / This is for my ladies, my sisters / All over, this is for my girls." The track came one day ahead of the First Lady's SXSW Music keynote, which includes Warren, Elliott, Sophia Bush, and moderator Queen Latifah; and centers on Let Girls Learn, an initiative that helps girls around the world receive a full education.
All the "Girls" artists reportedly waived their royalties and fees, because proceeds go to the Peace Corps Let Girls Learn Fund. You can catch a preview of the single below and buy it here. And you can stream the Wednesday panel, which begins with a Chloe x Halle performance, here at 11:30 a.m. ET.