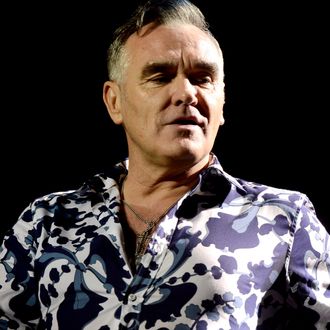 Photo: Kevin Winter/2013 Getty Images
Morrissey may eschew his attempt at writing fiction and become the Mayor with the thorn in his side. A post on true-to-you.net, "a Morrissey Zine," says the morose crooner "has been invited to become the London Mayoral candidate for the Animal Welfare Party in the upcoming 2016 election. Morrissey would require 330 signatures of support in order to enter the race, and is considering the contest very seriously." Environmental groups are, as the Guardian says, throwing down the green gauntlet to mayoral candidates this week. (The current mayor, Boris Johnson, is a self-described "petrol head.") Morrissey's subsequent comment goes on:
Animal welfare groups cannot persist simply in order to continue to persist. There must be a governmental voice against the hellish and archaic social injustice allotted to animals in the United Kingdom simply because those animals do not speak English, otherwise millions of very caring citizens are greatly concerned about issues that no one is able to do anything about. What animal protectionists need to say is very well worth saying and well worth hearing. But we cannot just sit around waiting for establishment enlightenment. The sanctimonious disaster of animal agriculture cannot be allowed to go on forever, because its widespread impact is hellish.
Morrissey, who is not a fan of Donald Trump, has long been an advocate for animal rights. His campaign slogan could be: "It's death for no reason, and death for no reason is MURDER. Morrissey 2016."