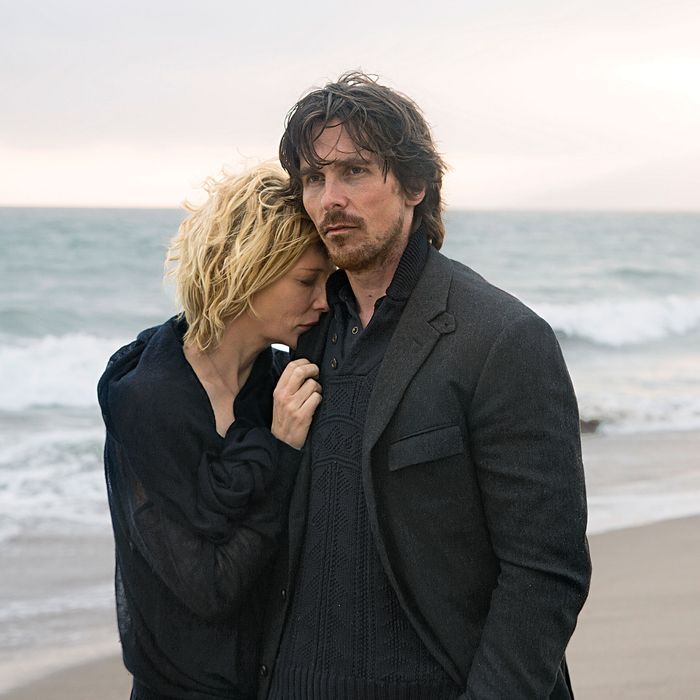 Knight of Cups.
Photo: Courtesy of Broad Green Pictures
Terrence Malick's last cinematic devotional, To the Wonder, offered a radiant vision of Mont Saint-Michel, an island abbey off the coast of Normandy that glowed with the intensity of the Holy Grail. His newest cine-liturgical montage, Knight of Cups, focuses on the lower sphere, a world of façades and garish materialism: Hollywood. If movies are, indeed, both a product of and a road to hell, Malick is doing his damnedest to transcend the medium.
His protagonist is Rick (Christian Bale), a reasonably successful screenwriter with the potential — if he makes a pact with someone who speaks in the seductive tones of you-know-who — to be very rich. As it stands, he's a trapped and writhing soul, albeit one that gets to sleep with one gorgeous woman after another.
Knight of Cups opens with snatches of The Pilgrim's Progress as intoned by John Gielgud before settling into an episodic allegory (each chapter separated by tarot cards) of a fallen knight whose grail has receded from view. Rick's estranged father (Brian Dennehy) says in voice-over that this young knight "forgot he was the son of a king," "fell into a deep sleep," and didn't cherish the precious pearl that was bestowed on him. Finally awake, a groggy Rick thinks back on how he lost that pearl.
All of this is accompanied by a syntax that is unique and, as such, treasurable. There is no palette like Malick's. Brad Pitt, co-producer and star of The Tree of Life, once said (after Malick blew off a Cannes press conference) that the director was like a man with a great butterfly net, grabbing at images. My impression is that he contrives a semi-coherent script, shoots it, and then, in the editing room, removes much of the dialogue and narrative tissue, paring down the film to archetypal gestures. There's more variety in his weave than there was in To the Wonder: Scenes in which Rick's father raves about a son who died (sometimes with the sound below the level of audibility) while Wes Bentley as Rick's bitter, unstable surviving brother totters and moans burn through Malick's haze. But archetypes have a way of turning into abstractions or, worse, clichés, and Malick repeats himself so much the movie comes to feel like self-parody.
It's not always clear if the leggy beauties (Imogen Poots, Freida Pinto, Natalie Portman, several others) are meant to be a distraction or a source of potential deliverance. I guess it depends. Rick's ex-wife (Cate Blanchett) is a doctor who treats the poor, setting her admirably apart from the studio creatures. She tells him, "You never really wanted to be totally inside our marriage. Or outside it either." Late in the film, Portman seems like the keeper ("Have I found you?"), but she's already married, and the plot takes a turn for the bleak. Malick starts and ends with a diaphanously dressed blonde (whose face we never see) in the surf while Rick says, in voice-over, "Where will I meet you? Which way shall I go? How do I begin?" I think she's meant to be the One, although the other women gambol in the waves, too, often with arms upraised. An uncharitable viewer might say Malick makes the Higher Beach Blanket movies.
Damnation is when "the pieces of your life never come together." That's Hollywood for you. Malick's spectacular set piece takes place outside a vulgar château amid immaculately dressed industry types and still more willowy women. The host is played by Antonio Banderas, a proud lothario who says that you can't have just one woman: Sometimes you want strawberry, sometimes raspberry. Ryan O'Neal is a guest — meant, perhaps, to suggest personal and professional wreckage in the wake of one of Hollywood's most successful love stories.
The obvious message is, "Go East, young man." And maybe there's a hidden message: that Malick is preparing, like Prospero, to abjure his magic. He has told the story of humanity's fall from grace so many times that you wonder if his wand is starting to sputter.
*This article appears in the March 7, 2016 issue of New York Magazine.