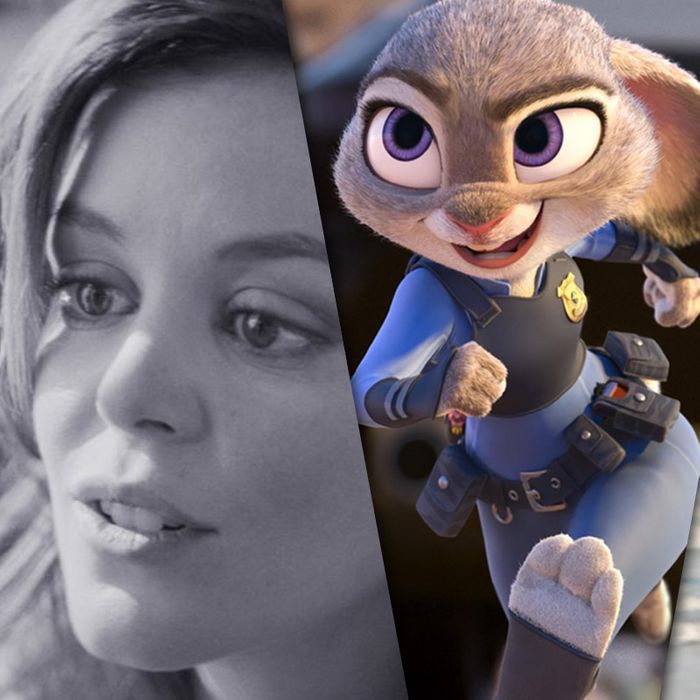 Creative Control, Zootopia, Knight of Cups
Photo: Greencard Pictures, Dogwood Films, Disney Productions
During Easter weekend it's easy to get caught up in all of the pastel hoopla surrounding the customary egg hunts and visits from a folkloric bunny. But if you want to deviate from tradition and instead retreat to a cinema, look no further than our list of options — complete with commentary from our critics — available to watch right now. (Or, if you prefer to stay in the comfort of your living quarters, consult the suggestions in our vast streaming guide) For a full viewing experience, Peeps and jelly beans are most certainly encouraged.
10 Cloverfield Lane
The J.J. Abrams–produced psychodrama follows the exploits of a woman being held against her will in a bunker with two men after the world has supposedly suffered from an unknown deadly attack. Are the men actually saviors? Or are they deranged kidnappers? The strategy behind 10 Cloverfield Lane could change the way that movie franchises are built, but beyond that it's simply a fun, thrilling movie. "For all that, 10 Cloverfield Lane does what it needs to do: make you sit and squirm and want very badly to know," David Edelstein wrote. "It has the appeal of suspense radio plays from the '30s and '40s and even a touch of Orson Welles's most infamous Mercury Theater broadcast."
Miles Ahead
Don Cheadle channels Miles Davis in this stirring biographical drama, which explores the life and music of the jazz legend. (He also co-wrote and co-directed the film.) "Cheadle has the right wariness and sad, shocked-open eyes. He can seem at once self-contained and feral. His rhythms are his own," Edelstein wrote. "This is probably Cheadle's most electrified performance since the one that made him a star, as the incorrigibly homicidal Mouse in Devil in a Blue Dress. Hobbled by illness, his Miles still seizes the space, using Davis's high rasp to force people to lean in close. When he smokes cigarettes, he smokes hard. He burns too hot to settle into existing forms." It's been ten years in the making, and Cheadle's pitch-perfect voice and vernacular proves it.
The Brothers Grimsby
Sasha Baron Cohen's signature shock-and-awe humor may not be everyone's cup of tea (especially Donald Trump and his press team), and that's exactly what you're going to get with The Brothers Grimsby. The film revolves around two brothers — one an utter doofus, the other a highly trained spy — as they reunite after years of being separated at an orphanage and are quickly forced to work together. "Parts of The Brothers Grimsby are very funny," Edelstein wrote. "There's an excellent sex-slavery gag (really), and a great, classical farce mix-up scene (two characters talking about entirely different things) involving a penis and a long, bowl-clogging bowel movement. The physical abuse heaped on a part-Israeli, part-Palestinian boy with AIDS is impressive." So anyone faint-hearted should tread wisely.
Krisha
As the debut feature of Trey Edward Shults, the indie-drama powerhouse Krisha tells the story of an older woman who struggles to maintain her sobriety during a tense Thanksgiving family reunion in Texas. "The Houston-born Shults — who's not yet 30 — has a gift, perhaps even a genius, for translating thought and emotion into camera moves and composition," Edelstein wrote. "But you don't sense that he's controlling the action, only observing it, chasing after it. … The home-for-Thanksgiving psychodrama is such a venerable subgenre that I worry I've made the film seem too ordinary. But Shults is such a natural Expressionist that he can gently puff the ordinary into the archetypal." Check your local indie film-houses to see if it's playing.
Zootopia
Zootopia is dominating the box office — giving Pixar a solid run for its money in the process — and it's easy to see why. The charming adventure-comedy follows a city populated by adorable anthropomorphic creatures as a mysterious conspiracy emerges, rendering it an enjoyable (and clean) narrative for any possible moviegoer. "My own grumpy cynicism — in full effect for the first frenetic half hour — melted away, partly by the charm of the voices and partly because the film had transformed into a clever, gumshoe mystery of the sort that studios once made all the time but are now seen as too modest," Edelstein wrote. "That's right: what saves this big-budget cartoon behemoth is its modest, old-fashioned storytelling."
Creative Control
This fascinating dark sci-fi comedy ostensibly depicts a Brooklyn adman in the near future who uses new augmented technology eyeglasses to help have an "affair" with his best friend's girlfriend, but the themes dig much deeper. The glasses allow the wearer to manipulate reality as we know it, which threatens the grasp of what is real and what is fake. Allow Edelstein to explain it further: "[Director] Benjamin Dickinson is too cool to spell out a message, but Buddhists, 12-steppers, and sundry anti-materialists will tell you (at length) how the hunger for control is the shortest path to enslavement. The connections among addiction, high-tech virtual reality, and the purgatory of solipsism put Creative Control in the slipstream flowing from Philip K. Dick, while a preference for artificial life forms over humans links the film to the recent Her. … The foundation of Creative Control's future is already here."
Midnight Special
The sci-fi drama Midnight Special, starring Michael Shannon, Kirsten Dunst, and Adam Driver, revolves around a father and his attempt to steal back his prodigious teenage son from the religious commune that adopted him, while simultaneously being hunted down by a government agency who believes in the son's unusual exceptionality. "Parts of Midnight Special are frankly Spielbergian. … [director] Jeff Nichols's mythic aspirations are still a puzzle to me; I'm not sure he has connected all the dots in his psyche yet, or that he fully brings off his finale," Edelstein wrote. "But I love watching his movies." And unlike Nichols's other films, this one is family-friendly.
Knight of Cups
This drama from the mind of Terrence Malick follows a reasonably successful Los Angeles screenwriter (Christian Bale) trying to make sense of his empty life — mostly through sleeping with an abundance of gorgeous woman and contemplating life's big philosophical questions. "All of this is accompanied by a syntax that is unique and, as such, treasurable," Edelstein wrote. "The obvious message is, 'Go East, young man.' And maybe there's a hidden message: that Malick is preparing, like Prospero, to abjure his magic. He has told the story of humanity's fall from grace so many times that you wonder if his wand is starting to sputter."
Whiskey Tango Foxtrot
Tina Fey headlines this war dramedy about an ennui-afflicted television journalist who decamps to Afghanistan to become a war correspondent. "I liked watching Fey, who's learning to be a real actress — to stop pulling sitcom faces and just be," Edelstein wrote. "It's fun to watch her go from helpless to hard-charging, mastering the language and trying to see past the propaganda on all sides. But the part isn't filled in … her dramatic arc, like the film's, disintegrates." While there are many humorous moments to keep Fey enthusiasts satisfied, the odds are that Whiskey Tango Foxtrot "will bomb [for] having no distinct point of view."
Eddie the Eagle
If you're in the market for an inspirational sports comedy, Eddie the Eagle tells the true-life story of the tenacious Michael "Eddie" Edwards, who represents Great Britain in the Winter Olympics for ski jumping despite a lack of experience. "The film is simple, maybe even simplistic, but not stupid," Bilge Ebiri wrote. "Anyone who has ever watched a young child with dreams of sporting glory can recognize the elemental pull of this type of story. But by keeping things simple — by refusing to burden us with too many facts, or too much portent, or complicated characters — Eddie the Eagle channels that spirit well. It won't win any medals, but it earns its place." Essentially, it's the epitome of an underdog story, just without the winning part.
The Mermaid
The Mermaid is now officially China's best-selling film of all time (over three billion dollars at the box office), and it's easy to see why — it's a bonkers extravaganza filled to the brim with comedy, sci-fi, romance, and fantasy. As Ebiri explains it: "At first glance, Mermaid looks like what might happen if Stephen Chow decided to cross-breed Splash and You've Got Mail with The Ladykillers and a terrifying nightmare I had when I was nine. It follows the romance between filthy-rich playboy businessman Liu Xuan and Shan, a beautiful mermaid posing as a human in order to kill him. … It's amazing how distinctive and strange Mermaid manages to be, especially given the highly derivative concept — how personal it feels, amid all the absurdist, go-for-broke humor. It deserves to be seen."