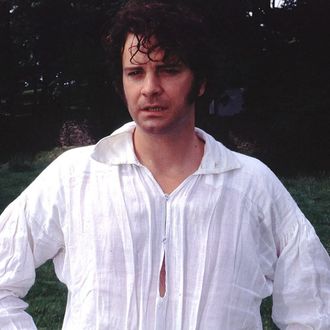 Just try to look away.
Photo: Universal Pictures
If you like sexy stuff, and we think you do, get ready to book a plane ticket to Washington, D.C. (unless of course you already live there … lucky). Because Mr. Darcy's wet shirt from Pride and Prejudice, which has since probably dried, is heading to the Folger Shakespeare Library as part of the exhibition "Will & Jane: Shakespeare, Austen, and the Cult of Celebrity." The exhibition will also feature a bundle of wood from Shakespeare's birthplace — talk about sexy. The wet-shirt scene is not in the book, obviously, which we all know, because we've read it a bunch. It was just made famous by Colin Firth's bod, and, later, by a glorious statue in Hyde Park. One of the show's curators, Janine Barchas, told the New York Times, "We will be giving the Folger some Windex, to be used in what we anticipate will be a daily wiping-down of lipstick marks." Oh là là! Wipe down that library glass!