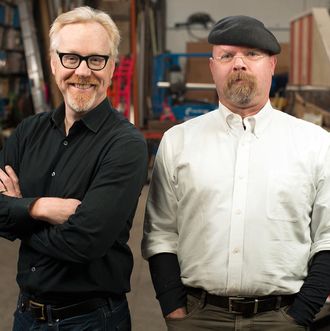 Adam Savage and Jamie Hyneman.
Photo: Discovery Channel
If, as the Ghostbusters theme song has taught us, bustin' makes you feel good, it stands to reason not bustin' must make you feel bad. If you've been wracked with pain and night sweats due to bustin' withdrawal, great news: Science Channel is reviving MythBusters. The original series, hosted by Adam Savage and Jamie Hyneman, ran for 14 seasons before ending earlier this month. As if that wasn't enough bustin', and it most certainly is not, the network will also be sussing out the reboot's new hosts on the reality competition show Search for the Next MythBusters, which will follow 15 candidates as they bust classic and new myths. Ugh, myths: We're so goddamn close to busting those things completely.