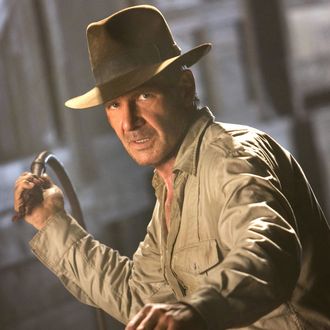 The once and future Indy.
Photo: Paramount Pictures
How do you feel about the prospect of a fifth Indiana Jones movie? Do you feel anxious, depressed, uncertain about your own meager place in this uncaring world? Probably, which is why Lucasfilm has spent the better part of the past year slowly introducing the idea of a new Indy movie into the public consciousness, so that making peace with the inevitable will be as painless for you as possible. Last May, Lucasfilm head Kathleen Kennedy confirmed rumors that the studio was knocking around ideas for another sequel; in October, Frank Marshall assured fans the role of Indiana would not be re-cast; and in January, Steven Spielberg promised that Harrison Ford would stay Indy for a long time. Now, it's official: Disney announced on Tuesday that Spielberg and Ford had signed on for a fifth Indiana Jones film, coming July 19, 2019. That gives you three years to go from denial ("Maybe it'll get canceled?") to anger ("Why can't Hollywood have an original idea!") to bargaining ("Can't Ford play Andrew Johnson in a sequel to Lincoln, instead?") to depression ("I'll just watch Netflix.") to acceptance ("Eh, am I'm gonna see Avatar 4 instead?").