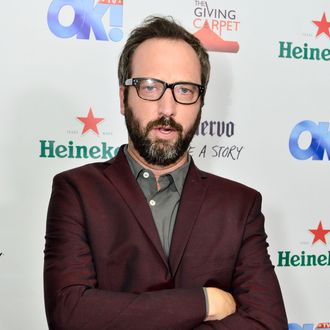 Tom Green.
Photo: Jerod Harris/2014 Getty Images
A man in Concord, North Carolina, was arrested Tuesday for never returning a VHS rental copy of critical pariah Freddy Got Fingered. WSOC-TV first reported the news, noting James Meyers was charged with "failure to return rental property," a misdemeanor with a price tag as high as $200. Meyers also detailed his story, which began with a broken brake light and ended with a 2002 warrant, via YouTube: "Yeah, Freddy Got Fingered — [the police] just served the warrant, 14 years later. That's what my local police department and lawmakers are up to," he said. "They're not out here catching heroin dealers, you know what I mean? They're chasing people for movie rentals for places that don't even exist anymore. That blows my mind." After ending up in cuffs, Meyers was reportedly ordered to appear in court on April 27, at which point he'll answer his misdemeanor charge. Fortunately, Tom Green, the star of the 2001 movie, has offered financial help and sausage in Meyers's time of need.
For more, scope out the corresponding local news report.