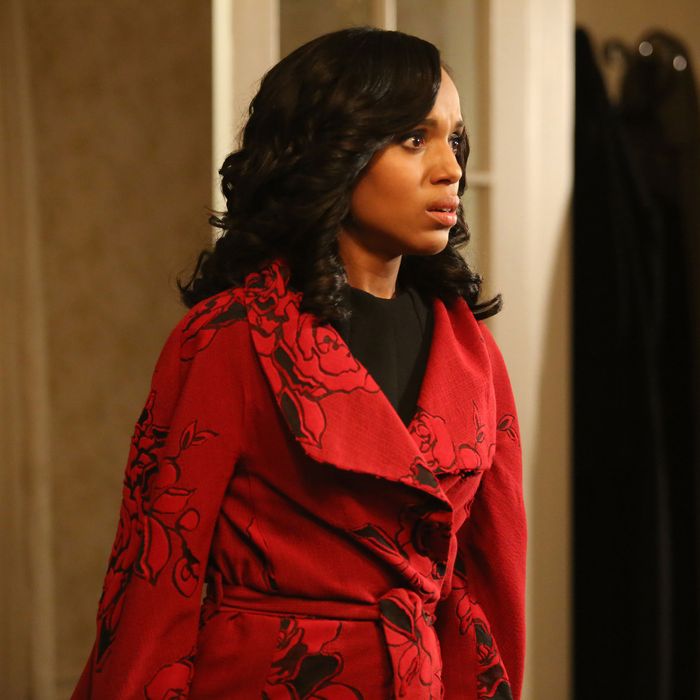 Where's the white hat? Ever since Scandal returned from its midwinter break, the most shocking revelation hasn't been a fixed election or secret spy organization, but the changes to Olivia Pope's wardrobe. Gone were the cream sheaths and gray cardigans, and in came the orange capes and pink sweaters. But what does it all mean? Vulture reached out to the show's costume designer Lyn Paolo to get some answers. We talked about Olivia's new look, her evolving relationship with Mellie, and what we can expect from the rest of the season.
Before we get into what Olivia's been wearing lately, how would you describe Olivia's style throughout the past four seasons?
We wanted both a strong and feminine look for Olivia. Everybody thinks she wears white all of the time, when in fact she does not. It's interesting what people's perceptions are. I guess you see what you think you see, you know? So she was always in neutrals. Although her opinions were not neutral and she's exceptionally strong, which I love about her.
As we all do.
Everybody does! The concept was "How do we create this character who stands out in a room full of men," and of course Kerry Washington has always been a standout in a room. And how does that translate to Olivia Pope? The idea was the white knight and all of that stuff and the white hat and being a gladiator. So for the last four years I've been saying things in the fitting room like, "Oh I'd just love to put you in orange!" If you watch the show you see that everyone is different — everybody changes all the time, except Olivia. And this relationship with the President and her fixation with their relationship and his fixation with Olivia, for me it felt like it was hampering her emotionally. Like she was making decisions based on her love of him. She did things I think Olivia wouldn't do because she loved him so much. Now this transition has taken place and she's walked away from that. I keep saying to people, "This is not retail therapy."
She has changed. She is approaching her life from a different point of view. She's a little bit more dangerous. She's challenging the system a bit more, and now she's in it for her. She's not doing this for other people, she's doing it for Olivia. So how does that translate? At the end of the mid-season break, Shonda was talking to me about the look and what we could do. And I showed her a lot of images; I did quite a bit of research actually and looked at runway lines. I went to her office and showed her all of these images of really bright, bright color and, God bless her, she put it in the script. Kerry actually tweeted about it last week, saying Shonda wrote it into the script. The first line of the episode coming back said something like "Olivia Pope walks in the room, unlike any Olivia you've seen before," and her father actually references, 'What's going on with you, what's with the clothes?'"
We wanted it to be jarring to the audience that, suddenly, she's someone else. She's reinventing herself. Because she has to. She's heartbroken in some respects. But in other respects, like when you end a relationship, she's putting her best foot forward. She's excited about her life. This was a huge storytelling point for us, and it's also a lot of fun for me. It's been a little bit scary because when you do something a lot and you repeat it, it became second nature in the fitting room. Even with the nuance of the neutrals and the storytelling within that of going from gray to light pinks, we were always trying to tell the story with color. Now we're having to redefine who she is, so it is challenging. We still want the colors to reflect something, and we're finding our way with that.
I'm glad that you mentioned that first outfit we see Olivia in with her father. Can you talk a bit about that look specifically? That red shift, and then right after that we see her with Jake and she's wearing that amazing magenta and orange color-blocked coat?  I'm sure whoever made that coat, it sold out.
Oh, it did. It's really fascinating to me that everything does still sell out. And it's a thing we struggle with. Because our beautiful fans ask all the time, "Where can I buy that?" and obviously I always say to people, "Oh my gosh, I can't afford to buy that." But they do sell out. And I will tell you that when Portia wears one of her beautiful blouses or her high-waisted palazzo pants we get calls from all of the designers saying "Oh my gosh it's sold out!" So it's really gratifying that people like how the show looks. It makes my crew and I feel pretty darn good on a weekly basis. So, the cape is sort of …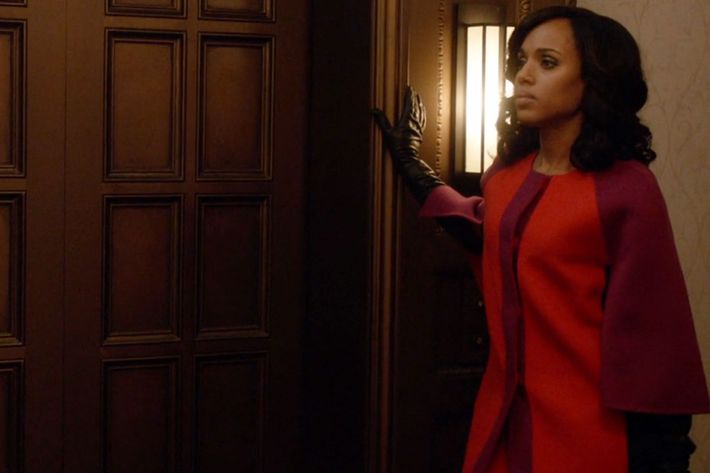 Oh, it's a cape! I didn't realize that.
I don't even want to call it a cape actually. It almost feels like a poncho except it opens in the front. But yes, it's by Fendi. It was actually bright orange and had purple insets, and it has these snap-closures under the arm so you can wear it several different ways. Originally, we had Olivia in an Akris wool sheath dress, the orange dress that she wears underneath, and I had a matching jacket which we rarely, rarely do on this show. I sent pictures to Shonda and it just didn't feel right. It felt a bit too "I'm going to church" — less fashion-forward and more conservative. So Kerry had tried on the Fendi piece in the fitting room and then I sent a picture of that to Shonda and it really felt like Olivia Pope. We'd been struggling a little bit because things that were seamless to us before, we now realized, "Oh well, we have to find that little something that makes this Olivia." It ended up having color-blocking and picking accessories that you would not normally put with a specific outfit. The fact that she has bright purple shoes with an orange dress works beautifully with the coat.  It takes a lot more time in the fitting room, but we are having so much fun because we get to suddenly just throw in an amazing blast of color.
It's quite jarring to see that as our first look back to her from the season.
And we wanted that. That was the whole thing. In fact, the crew on the set, it was so funny to see their reaction because they didn't know. The only people we had discussed any of it with was the lighting department, because it was going to be this huge change. Even they, when she walked in in bright orange and purple, were like "Whoa! What happened to you?" The Teamsters would come up to me and go, "I just … I don't recognize Olivia." It was really funny, all these big, burly guys having a chat with me about how they just didn't quite understand why Olivia was dressed like that.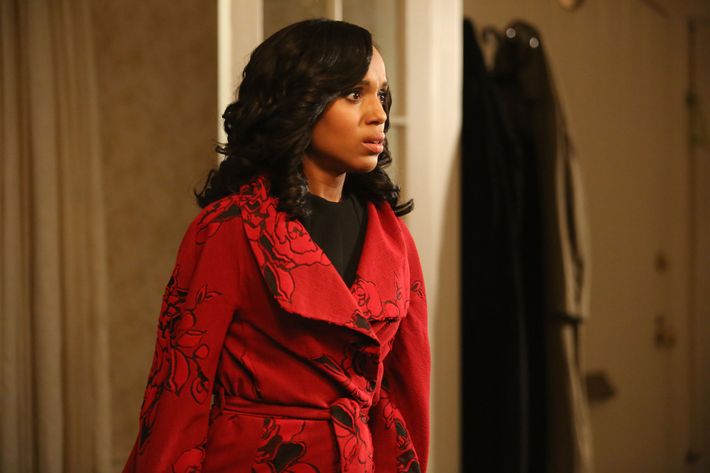 I think we had another moment like that toward the end of that episode, when she wears that gorgeous red trench coat with the black floral print over it, when she confronts Jake at her dad's. Can you tell me the story behind that trench coat?
The whole of that first episode, we go from purple and orange, and then things get darker for her, so all of a sudden she was in a black Alexander McQueen jacket over this bright yellow dress. There were all these transitions of color. She went from the purple and orange to the Narciso yellow dress, and then went through the whole episode and things were evolving with her and her relationship with her dad, and then all of a sudden her relationship with Jake. We decided that, finally, when she's confronting Jake and she shows up at Rowan's house, that whatever she was wearing had to feel as jarring as the first outfit. But there was a darkness to it, too. This coat was by Escada, and I saw it when I was out shopping in Beverly Hills. It's such a contrast. It's this floral print, and within the flowers, there's this darkness, those little black details. I don't know if it showed up so well on television. Underneath she just wore a simple, black Ralph Lauren dress. We pulled it all together with the Giuseppe Zanotti shoes that were like a self-printed leather.
Those shoes almost looked like snakeskin.
Yes. It was this fake ostrich print, and like the coat, it had dark undertones. It was a red leather, but they pressed the black into it, too. So it was really symbolizing the darkness. Is she going to the dark side now? What is happening with her relationship with Rowan, who she's always disavowed and not liked his tactics? And now we see her being with Jake and Rowan at Rowan's house, and they have this really intense discussion about power. Olivia has been close to the center of power. She's been in the Oval [Office] and she was there with Fitz and she walked away from it. And Rowan is suggesting that her addiction was not to Fitz, but to the power. There is a danger in cozying up to Rowan, so that's why we chose the red.
We also see how her relationship is changing with Mellie. When they're both in Olivia's living room talking about the book, we see Olivia in a bright pink cardigan and Mellie's the one wearing grays and neutral tones. Can you describe what's happening there?
The thing I think is fascinating is that there has to be something about these two women, that Fitz did fall in love with both of them. It's not that they're the same person. They're not. But it's interesting, and I love how Shonda did this. It's an interesting acting exercise for our two amazing actors, these two women, who have always been adversaries in one respect or another. Although I think Olivia was always trying in her own way to help Mellie, but Mellie was a woman scorned, you know, so there's rage. Now all of a sudden everything's changed for both of them. They both have walked away from Fitz. Now we're seeing them without him. So you have to ask yourself, is this the real Olivia? Is this the real Mellie? Before they were in love with this man, is this who they really were?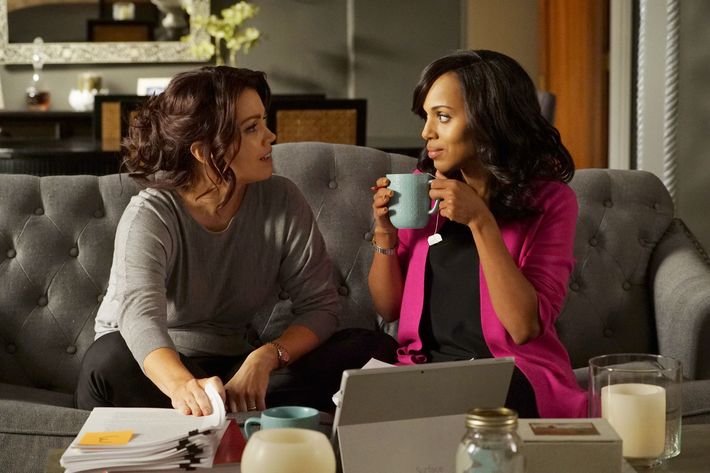 It's tricky for me as the costume designer when these two women are in a room because we always had Mellie in these prime First Lady colors. When she's jealous, she was in green. When she was feeling most strong, she was in purples and royal blues. Now the tables have turned. Mellie is in a much happier place. She is her own person. She's no longer standing in Fitz's shadow. She's a senator now and she's going to run for President and she is softer. She lost her son. So many things have happened to her that her lines have softened a little bit. I love that now they've reversed their roles slightly. We consciously chose, in those scenes where we see our two beautiful ladies together, that there will be this transference of power. That's now Mellie's world and Olivia's in her new world. I hope it's fun for the audience to think about that and see that costumes do tell a story. They do help the actor feel different in a given moment.
We've seen Olivia in her classic work and loungewear outfits. Are there any formal events or special occasions coming up for Olivia this season? What can we look forward to?
I think I can't tell you. But I will say that just as she's evolving, I feel like you're going to see a lot more color. I saw a couple of images online where Olivia was not in color, and fans have an idea in their heads that she's going backwards. She's not. We're going full-steam ahead. You're just going to see a lot more fun fashion. And not just with Olivia. Everyone is changing. The way Quinn has evolved from that sweet girl and her Peter Pan collars to now her black leather and her McQueen and her amazingly punk-rock jewelry that's always got spikes or whatever. Jake is changing. Fitz is changing. Everyone is changing. The thing to watch out for is not the special moments, but the evolution of the characters.