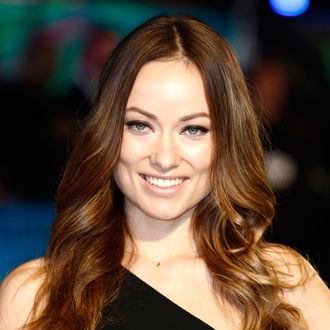 Wilde.
Photo: Tim P. Whitby/Getty Images
With tales of merkins and Martin Scorsese, Olivia Wilde visited the Howard Stern Show on Tuesday to promote Vinyl. Yes, they talked about the HBO show and her upcoming nude scenes, but the most interesting interview tidbits came in the forms of an unsuccessful Wolf of Wall Street audition, an Ali G–Oscars explanation, and a history of Jason Sudeikis's courtship. Read on for those highlights and clips below.
Age is Just a Number?
After Stern asked if Wilde had ever missed out on a role for being too beautiful:
No, I don't think so. The funniest thing I heard recently was I had heard for a part that I was too sophisticated. And I was like, Oh, that sounds nice. I like that feedback. I didn't get the part, but I'm a very sophisticated person. And then I found out later that they actually said "old." I want to make a translation sheet for Hollywood that's all the feedback your agents give you and what it really means … I did not [have to audition for Vinyl], because I had auditioned unsuccessfully for Wolf of Wall Street — [Margot Robbie's role is] the one I was too old for.
Booyakasha!
Her side of the whole Ali G thing:
That was really funny. It was supposed to be Jamie Foxx … then Jamie dropped out. I don't know what his reasons were … and then they said at the last minute, "Sacha Baron Cohen's gonna do it with you." And I was like, Cool, he's amazing! And he wasn't at rehearsal, so I was like, Alright. And then I get backstage, and they bring you back like 45 minutes before you're gonna present, I don't know why, but I'm standing there and I'm like, hanging out back there, and I realize we have two minutes to go and Sacha Baron Cohen is nowhere to be seen. I was like, Am I going out there alone? Just tell me right now. Little did I know, he was hiding in the bathroom getting changed. I step into the wings of the stage, and they're like, "Listen, if he doesn't show up, you just go, you say both speeches." … I was like, Great, I'm gonna be responsible for the five most boring moments in Oscars history. And I'm standing back there, and suddenly he shows up next to me, and he seemed really nervous — and he wasn't in the Ali G costume. And I was like, "Are you okay?" And he was like, "M-hm, m-hm, let's do this." And the stage manager walked away, and the second he was out of sight, Sacha was like, "Here!" And he handed me the hat, and he was like, "Tuck my hair into that hat!" I put his hair in, and he put the glasses on — and I'm a huge Ali G fan, so I was like, "Yes! Yes! This is great!" — and he put the glove on and was like, "Ready?" And I was like, "Yeah." … I could not contain my glee.
Cool Guy Alert
How Jason Sudeikis wooed her:
I remember I was on the dance floor [at an SNL afterparty] and everybody was dancing around me and they just seemed really happy and I was just kinda standing there … He came up to me and said, "You know, whatever you're looking for, you don't need it," and he just walked away … He played it really cool. When he got my number he didn't text me for a month. I was on the hook. I was like, You guys, did Jason Sudeikis die? Because I don't have any texts … It was kinda sweet. He literally didn't kiss me until the fourth date, and I was like completely head over heels.
Catch more of the interview, which includes her Chris Farley anecdote, support of Obama, and thoughts on her earlier work, here.