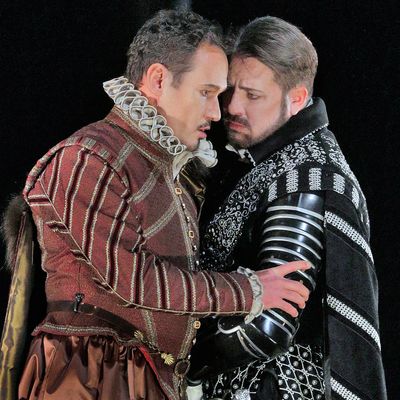 From Roberto Devereux, at the Met.
Photo: Ken_Howard/Metropolitan Opera
A skeletal statue with a nasty-looking scythe presides over an opera that begins with a capital crime and ends with an execution. From the opening ax-chop chords and doleful answer in the overture, we know how Roberto Devereux will end, and all the principal characters get plenty of opportunities for morbid moping along the way. Yet death is a lively, lovely presence in the Metropolitan Opera's first-ever production of the final installment in Donizetti's Elizabethan trilogy. An energized cast, supercharged by Maurizio Benini's high-voltage conducting, makes mortality seem like an adventure, and pain a worthwhile trade off for so much pleasurable music.
Opera can transfigure bleak, crushing misery into a suite of sensual experiences — like the title character's final scene in the Tower of London, in which the imprisoned Earl of Essex slips from delusional hope to resignation. With his honey-coated, spring-loaded tenor, his pliant phrasing and confident pianissimos, Matthew Polenzani turns a doomed man's musings into an ecstatic journey. His last utterance is a cabaletta more light-filled than tear-stained, and if, on opening night, Polenzani's voice flagged before the final exit, it felt like a reasonable exchange for all that elegant intensity.
Opera audiences crave glamour, and director David McVicar doesn't stint. Choristers in Elizabethan dress crowd the galleries of his onstage theater, chandeliers rise and fall, and the ornamented rear wall slides back and forth, carrying its freight of menacing statues and majestic doors. McVicar is one of the relatively few opera directors who understands how music works — how much time a cadence needs to ring, how a calculated stillness can help a singer activate her voice, and how a final stomp or sweep of the arm can make it seem as if she'd been frantically pacing all along. The way this production looks makes it sound better.
The cast is a gathering of veterans. Mariusz Kwiecien and Polenzani have both been Met regulars since the 1990s, and have made the slow slog to stardom. Elīna Garanča, a more recent — and splendid — addition to the roster, sings the somewhat inert role of Sarah, Dutchess of Nottingham, so ravishingly that she makes self-pity seem like an almost attractive quality. Sondra Radvanovsky has given nearly 200 performances at the Met in 20 years, but if there were any doubts that singing Donizetti's three queens — Anne Boleyn, Mary Stuart, and Elizabeth I — would make her the company's unchallenged sovereign, they were dispelled by the hollering (not hers) that turned her curtain call into a cathartic release.
Elizabeth is a dour monarch, stiff and limping and desolately in love with the doomed Devereux. But Radvanovsky pours all that corseted rage into singing that floats and stings. She achieves with her voice all the wild freedom that her character is denied, and makes something splendid even of her ruthlessness and regret. Her soprano is all velvet and steel, and as she pushes up into the role's high-altitude acrobatics, she acquires ever more infallible poise. It's a great moment in opera when she enters encased in a marble-white outfit sculpted by costume designer Moritz Junge, a pair of gauzy butterfly wings framing her auburn curls and chalky face, to deliver her aria of martial love "Ah! ritorna qual ti spero." Later, when she is shorn of wig, collar, and gown, and reduced to the aspect of a frail old lady, she wields Donizetti's music like a whip, urging the opera to its electrifying end. Death, be proud.
Roberto Devereux is at the Metropolitan Opera through April 19.