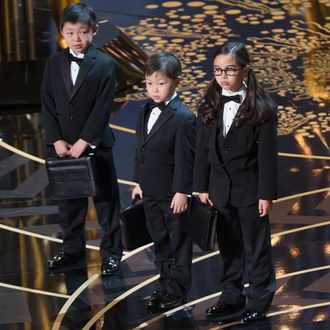 Look at these cuties.
Photo: Adam Taylor/ABC
One of Chris Rock's most controversial jokes from Oscars night wasn't about systemic racism in Hollywood; ironically enough, it was a crack against Asian people. In a bit similar to the one he did the first time he hosted the Oscars, Rock brought out three Asian kids as the "dedicated, accurate, and hard-working" accountants "Ming Zhu, Bao Ling, and David Moskowitz" of PricewaterhouseCoopers. Then, he joked, "If anybody is upset about this joke, just tweet about it on your phone, which was also made by these kids."

In an interview with Public Radio International, one of the kids, eight-year-old Estie Kung, and her mother, Laura, said that they didn't know what the joke was until the rehearsal after they had already signed a contract:

In this case, it wasn't until the rehearsals, after Estie got her tux fitted and was already looking forward to the opportunity to be on the Oscars, that her parents heard the entirety of the joke for the first time. But they had already signed the contract and had to confront the very likely possibility that their daughter would be part of a racist joke that would cause an uproar. After talking to Estie, they ultimately decided to take the optimistic point of view, believing that an inappropriate Asian joke that might provoke a difficult public conversation may be preferable if the status-quo alternative was to have no Asian presence at all. So, they braced themselves.
Originally at the audition, Laura Kung says that they were told the joke would be similar to the first time Chris Rock hosted the Oscars, when he brought out three very tall black men onto the stage as the representatives of PricewaterhouseCoopers, which counts the Oscar ballots. "I did wonder, 'Why all Asians?'" says Laura Kung. "But I assumed there was a bigger picture, a more complex joke given all the emphasis placed on diversity at the Oscars this year."

"It's hard seeing pictures of your daughter's very serious face on stage associated with all of this," says Laura Kung. "It's definitely been a damper to all the joy she felt just being there."