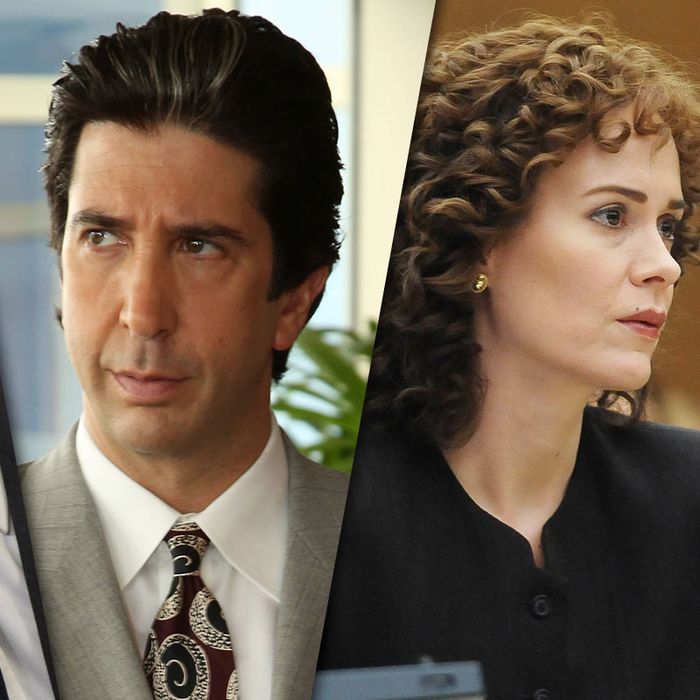 The first documented evidence of a joke about Los Angeles prosecutor Marcia Clark's hair — "Who's more likely to have a bad hair day, Marcia Clark or Alan Dershowitz?" — dates back to August 18, 1994, when the Los Angeles Times credited "investigative comedy reporter Tony Peyser" with the quip. Clark was the lead prosecutor in the O.J. Simpson trial, and, like nearly everyone it involved, she was quickly becoming an unwilling celebrity. Over time, Clark's changing hairstyle, like Simpson's white Ford Bronco and a pair of Brooks Brothers gloves, became a powerful visual icon, an enduring collective touchstone for millions of Americans. Last week, 20 years after the "trial of the century," 3 million viewers tuned in to FX's American Crime Story: The People v. O.J. Simpson to relive the evolution of the lead prosecutor's hair.
In her review of the series, New Yorker critic Emily Nussbaum called it "miraculously well-cast," and it is: Iconic actors deliver powerful, pitch-perfect characterizations. But the miracle might actually be in the hair. The production's hairstylists and wig-makers, a team of industry veterans with decades of experience, played a key role in establishing the show's narrative authenticity by turning well-known actors — including John Travolta, Sarah Paulson, Courtney B. Vance, and David Schwimmer — into pitch-perfect characterizations of the real people they portray. "Nail it the first time and then the audience will go for it," says Eryn Krueger Mekash, American Crime Story's makeup designer. If we accept Travolta as defense attorney Robert Shapiro, we're more likely to accept the show's version of reality. But making this happen is a hairy business.
"I'm obsessive about the hair being unnoticeable," says Stacey Butterworth, the Vancouver-based wig-maker and designer who built hairpieces for Travolta and Nathan Lane, who portrays defense attorney F. Lee Bailey. "It should just become part of you." But producing hairstyles that subtly and unobtrusively cement the show's authenticity is a challenging art. Attempting a carbon copy won't work, and hair done poorly is a distraction that takes viewers out of the story. Worse, Butterworth says, the styling can read as "character-y and comical" when a wig isn't designed to blend with the actor's features and build. "We didn't want anything to feel jokey, to feel period-inappropriate, or to draw attention away from this very serious subject matter that we're tackling," says Chris Clark, the production's lead stylist and hair department head.

The trick lies in "bringing the essence of the look of that other person through your actor," makeup department head Zoe Hay explains. Take Travolta as Shapiro, for example. The designers first established a character aesthetic made up of a few of Shapiro's key features — his hair, those eyebrows — and then worked to merge these signatures with Travolta's features. Digital imaging has made this process easier. Butterworth used photos to "morph Shapiro and John together on a computer screen," she says, which allowed for precise "placement of the thinning spot on the top, the temple recede, all of that stuff."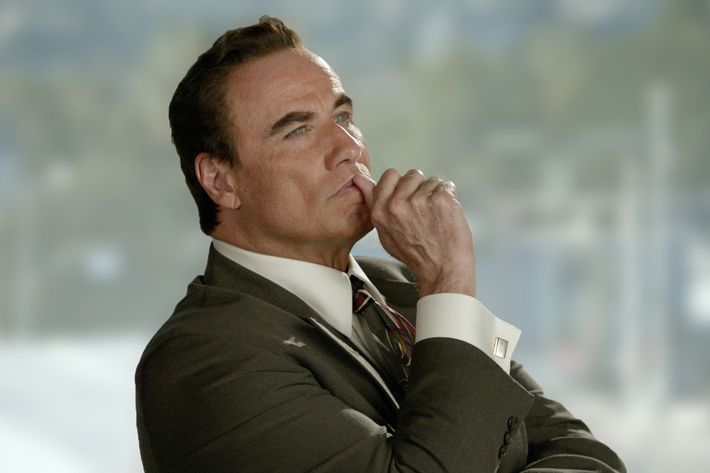 Hay, who built eyebrow wigs for Travolta, laid photos of the men's brows over one another. "I worked to find the little differences that occurred on the upper part of the eyebrow," she says. "Shapiro's brows had a little tiny triangle," which she re-created for Travolta with "a little brow toupee." For Lane's F. Lee Bailey, the transformation was even greater. "Nathan has dark hair, a very low, well-defined hairline, and dark eyebrows," Hay says, while Bailey "has a receded hairline and white brows." To change the shape and coloring of his hair, Lane agreed to shave his head. The stylists painted his eyebrows before fitting him with eyebrow wigs. (These tiny mohair-and-angora wigs are so fragile, Hay made eight sets for each character who wore them.)
"People don't realize how many wigs are on the show," says Mekash. Virtually every member of the main cast is wearing some kind of hairpiece. They're essential, Clark adds, in changing an actor's silhouette so she is "received as the character from all angles." (Exceptions were Cuba Gooding Jr.'s O.J. Simpson and Kenneth Choi's Judge Lance Ito — in those cases, the stylists adjusted the actors' beard lines with makeup and careful shaves.) Yes, Courtney B. Vance's mustache is his own, just darkened and reshaped, but Victoria Wood, an L.A.-based wig-maker who is known for her work with black hair, built his hairpiece for his role as Johnnie Cochran.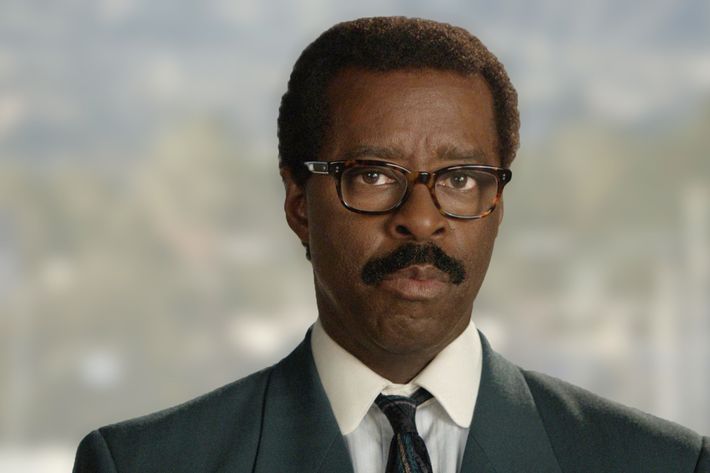 "The world's tiniest wig" was the answer to the problem of putting Robert Kardashian's signature white streak on David Schwimmer, says Clark. "I didn't want to paint it because it would have looked super hokey," he remembers. After struggling to find a solution, he bolted awake at 2 a.m. one morning with the answer: a half-inch wig — black with a white streak in it — that travels along Schwimmer's hairline.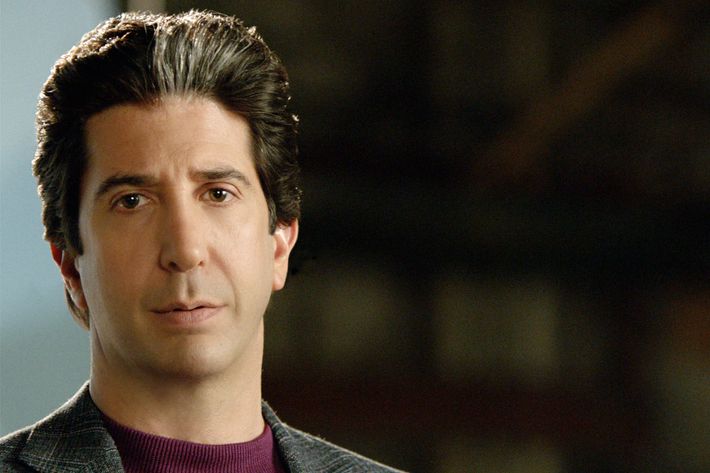 Fans of The People v. O.J. aren't supposed to notice the hair — except, of course, when it's Marcia Clark's. Her appearance was such a significant part of media coverage that her successive transformations — like in last week's "Marcia, Marcia, Marcia" and in this week's episode, where Paulson again appears in the courtroom with a new do — were essential to advancing the show's narrative.
When he found the name of Clark's hairdresser in an old Los Angeles Times story, Chris Clark tracked him down. Allen Edwards, known for creating Farrah Fawcett's signature hairstyle, still works in Los Angeles, and he talked Clark through the infamous hair. Victoria Wood delivered four un-styled wigs that matched the "texture, color, density, and growth patterns" of the prosecutor's hair (which was not naturally curly) as closely as possible. (Paulson, who was simultaneously shooting American Horror Story, for which she'd bleached her hair, wore wigs throughout the production.) Clark was then able to style them using exactly the same processes: "I knew what perm rod size it was, I knew how it happened, I knew how the blowout worked." (He also untangled a small mystery: In last week's episode, viewers were bewildered when the stylist told Paulson's character, "I did it for Farrah, and I'm going to do it for you," just before her new, tightly permed cut was unveiled. "'I'm gonna turn you into Farrah Fawcett' is 'I'm gonna give you the same iconic powerhouse look,'" Chris says. "He was going to create a piece of art that was going be transformative for her." On that front, Edwards did manage a kind of success.)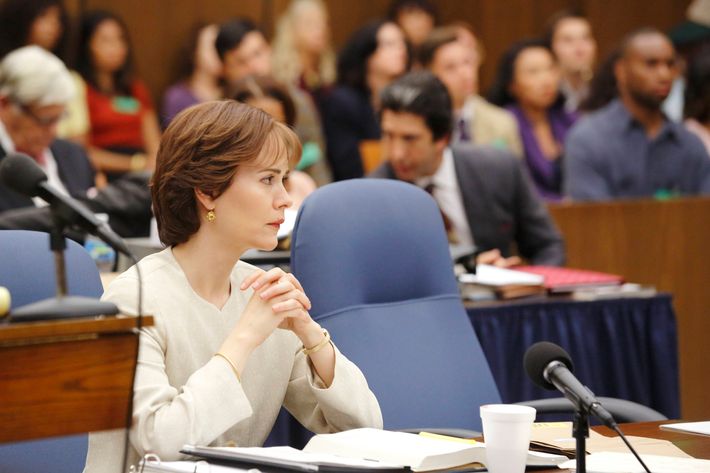 Perhaps the best sign of the stylists' success is that their work contributes to a palpable realism for the actors as much as for the audience. When Sarah Paulson donned a new wig and shot a pivotal courtroom scene, the emotions were deeply felt. "When she walked into that courtroom, she felt like Marcia felt, and it was humiliating," Clark recalls.
All of this was only possible because the producers trusted the stylists' ambitions, the network funded them, and the actors committed to them. "Very few television productions get to bring in the number of people we got in each day," Hay notes, but The People v. O.J. had a dozen hairstylists and a dozen makeup artists on set. Episodes have included as many as 170 principals, all of whom "needed something, some of these tiny bits that build little layers of texture throughout," she says. "While you can always find another solution, it's not necessarily the one that gives the best effect." Hay adds that the crew was lucky "the actors were so willing to really go for it. We had to say to them, 'I'm gonna give you this. It's not so pretty, and you'll have to walk around in real life like that.' Poor Kenneth Choi had to walk around in public like he didn't know how to trim his own beard, because it worked for us."
In the end, the hair team's biggest obstacle might have had nothing to do with the particulars of executing each specific look. Among the painfully human and serious truths the show offers, add to them Butterworth's: "That whole period was not a nice-looking hair period anyway. It just wasn't."
*An earlier version of this piece noted that Eryn Krueger Mekash designed the show's hair. In fact, that was Chris Clark.