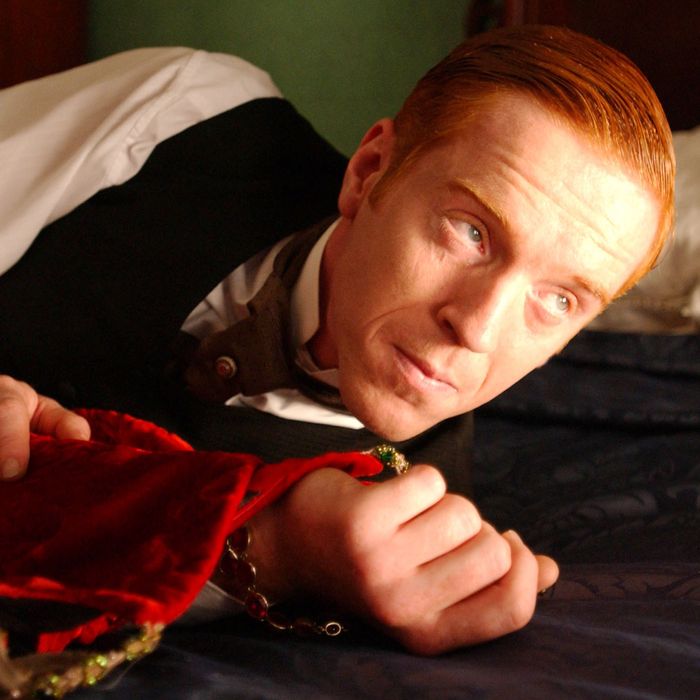 Damian Lewis as the tormented lead in The Forsyte Saga.
Photo: PBS
Oh, Downton Abbey. We'll miss your soapy shenanigans, class dynamics, romance, and yes, even your most miserable moments. And after six seasons, we're going to need something to fill that upstairs-downstairs void in our lives. To assist in smoothly transitioning to a post-Crawley life, we've highlighted 11 Downtonesque shows that are excellent contenders to be your next favorite period drama. Sit back, ring a bell for some tea, and enjoy.
Upstairs, Downstairs, 1971–1975
If you want something as narratively and spiritually close to Downton as possible, Upstairs, Downstairs is by far your best bet. Aired in the 1970s, this was arguably the first drama that specifically focused on the class dynamics between the "upstairs" masters and their dutiful "downstairs" servants — but instead of a country estate, the setting is a posh metropolitan townhouse in the Belgravia section of London, owned by the wealthy Bellamy family. Everything, from the titles to the time period to the parlance, will inevitably have you nostalgic for the Crawleys. (For those looking for something more updated, a much more glamorous version was rebooted in 2011 and lasted two seasons.)
The Paradise, 2012–2013
Set in the late 19th century, The Paradise follows a young Scottish woman who decamps to northern England to work at the country's first high-class department store, and the interactions she faces with the various employees and often stuffy customers. (Not to mention, the blossoming yet taboo romance that ensues between her and the widowered store owner.) Don't let the beautiful costumes fool you, though — the retail world often gets nastily cutthroat. How modern!
Grand Hotel, 2011–2013
Grand Hotel is often referred to as "the Spanish Downton Abbey" and it's easy to see why. The premise is simple: A young man passes himself off as a waiter at the luxurious Grand Hotel in Spain to investigate the mysterious disappearance of his maid sister. He soon falls in love with the owner's daughter, who agrees to help him find out the truth about her disappearance. In between the sleuthing, you follow the daily lives of the hotel's spirited servants, the ruthless familial owners (the matriarch has a huge penchant for violence), and the colorful grandees who visit. It's a fun, sexy time in 1905 Spain. (Another British show of similar nature, The Grand, depicts the many exploits of a family-owned Manchester hotel.)
The Forsyte Saga, 2003–2004
This is a family (and romantic) drama on major steroids. Adapted from John Galsworthy's trilogy of novels, The Forsyte Saga follows three generations of an upper-middle class British family as their social and economic powers fluctuate wildly between the 1870s and 1920s. The seemingly constant woman-swapping, as well as the Forsytes' struggle to remain relevant in a vastly changing society, result in a dark and complex narrative. A dapper, pre-Homeland Damian Lewis stars as the tormented leading role.
Mercy Street, 2015
Moving across the pond, the Civil War-set Mercy Street breaks down opposing war barriers and chronicles the nurses and doctors — some Union, some Confederate, which nicely provides a pseudo-upstairs-downstairs dynamic — who work together in a chaotic hospital in Alexandria, Virginia, to help treat war patients. This medical procedural may not be superglamorous or peppered with dignified accents, but the melodramatic elements (the "rich" family that owns the building has money problems, for instance), coupled with historical commentary about race and feminism, make for a poignant period drama. Plus, it stars a post-How I Met Your Mother Josh Radnor as Dr. Jed Foster.
Cranford/Return to Cranford, 2007, 2009
If you're thinking to yourself, You know, I'd love to watch a show with a lot of Dowager Countess-like characters that also has an underlying spirit reminiscent of Pride and Prejudice, look no further than Cranford (season one) and Return to Cranford (a two-part season two). The show, led by the always-wonderful Judi Dench, follows a small fictional village in 1840s rural England run by a formidable group of mostly single and widowed women. They gossip, try to initiate romance, meddle in other people's business, and, most of all, keep to tradition and hate change. It's positively delightful. To seal the deal even more, Downton favorites Michelle Dockery and Jim Carter both pop in for supporting roles.
Mr Selfridge, 2013–present
A good dark romp of a period drama, Mr Selfridge tells the story of the highly exuberant yet deeply troubled American retail magnate Harry Selfridge (Jeremy Piven) who, in his own words, is "giving the world style, glamour, and razzmatazz" by founding the high-end U.K. department store Selfridges in the 1910s. The natural dynamic of the store's dedicated employees — including those in fashion, beauty, accessories, and even the loading bay — as well as Selfridge's many distressing misadventures with money and women and his slow decline in status, makes for captivating television.
North & South, 2004
North & South is a four-part miniseries that chronicles the abrupt change in life for a middle-class young woman from the south of England, when her clergyman father decides to leave the Church of England and move the family to a northern industrial town. What follows are her many attempts to adjust to the new living conditions, which isn't helped by a slow-burning love affair between her and a brooding and emotionally restrained local mill owner. Think of it as a hybrid of the romance in Pride and Prejudice and the working-class realism of a Dickens novel. (Brendan Coyle, Mr. Bates himself, also has a sizable recurring role.)
Call the Midwife, 2012–present
Set in London's gritty East End in the 1950s and 1960s, Call the Midwife follows the intertwining lives of midwives and nuns as they all live together in an Anglican nursing convent called the Nonnatus House. The countless deliveries and nursing duties put upon them on a daily basis are often difficult and fatiguing to watch — especially as their district, Poplar, is appallingly medically deprived — but the show's underlying sentimental spirit is one of relentless optimism and tight-knit sisterhood.
Lark Rise to Candleford, 2008–2011
You don't see many shows, period drama or otherwise, where a post office is a key setting. Lark Rise to Candleford wonderfully tells the story of a young girl who moves to a booming market village in Oxfordshire to begin an apprenticeship at the local post office under the helpful guidance of her mother's cousin. Beyond the postmistress narrative, the show follows the daily lives of the various residents of competing local communities — the modest Lark Rise and the more well-to-do Candleford — in the late 19th century. (As you can glean from the show's title, our protagonist moves from her native village to the other town for the job.) Brendan Coyle shows up once again in a supporting role.
A Place to Call Home, 2013–present
The melodramatic A Place to Call Home follows a woman who returns home to her native Australia following the end of World War II (and a 20-year stint as a nurse in Europe), and falls in love with a charming widower on the ship home. However, as the two grow closer to each other back on the mainland, his mother — the matriarch of the powerful and privileged Bligh family in rural New South Wales — does everything in her power to make the relationship go away. It's a racy yet breezy drama, complete with gorgeous '50s-era costumes, conflicting loyalties, and seemingly never-ending secrets.
Bonus: Sesame Street
Alright, this is technically a sketch, but we could watch Grover running up and down a staircase all day.