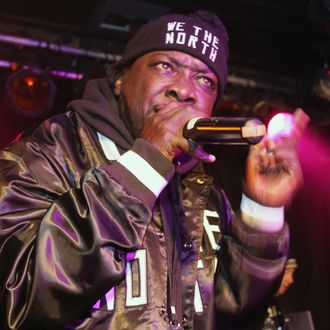 R.I.P. Phife Dawg.
Photo: Isaiah Trickey/Getty Images
Phife Dawg, hip-hop pioneer and founding member of the legendary Queens rap group A Tribe Called Quest, died Tuesday, at 45, from complications resulting from diabetes, according to a statement from his manager. Phife (né Malik Taylor) had famously suffered from type 1 diabetes since 1990, frequently calling himself the Funky Diabetic in songs, and received a kidney transplant in 2008 following complications from the disease. He last performed with a reunited A Tribe Called Quest in November 2015 on The Tonight Show — the group's first TV performance since 1998 — to commemorate the 25th anniversary of the collective's seminal debut album, People's Instinctive Travels and the Paths of Rhythm. "While I mourn the loss of my best friend and brother, I also will celebrate his incredible life and contribution to many people's ears across the world. Even with all his success, I have never met a person as humble as he," his manager, DJ Rasta Root, said in the statement. "He taught me that maintaining a positive attitude and outlook can conquer anything. Now my brother is resting in greatness. I'm honored to have crossed paths with him. Riddim Kidz 4eva."
Phife was born in 1970 in St. Albans, Queens, not far from the Linden Boulevard he'd go on to rap about, where he rose to prominence in the late '80s when he formed A Tribe Called Quest with his childhood friend and fellow rapper Q-Tip, as well as Ali Shaheed Muhammad and Jarobi White. In 1990, the group released their debut album, People's Instinctive Travels and the Paths of Rhythm, which would introduce hip-hop to the first of many quotable, game-changing lyrics from the then-19-year-old, despite only appearing on four songs. On "Can I Kick It?," he jump-started his legacy, rapping in a boisterous, high-pitched style he initially disliked that would become a constant balance to Q-Tip's laid-back flow, in rhymes like "Right now, Phife is a poem sayer / At times, I'm a studio conveyor / Mr. Dinkins, would you please be my mayor? / You'll be doing us a really big favor."
The same year as the Tribe's debut, Phife was also diagnosed with type 1 diabetes, a disease he once described as a "24/7 type of job," about which he spent the rest of his life spreading awareness. Despite his illness, Phife stuck with the Tribe for their next four albums — particularly refining his style and sharp lyricism on 1991's The Low End Theory and 1993's "Electric Relaxation" — until the group called it quits after their fifth album in 1998. Phife, who fans also know as the Five Foot Assassin and the Five Footer for his five-foot-three stature, went on to release his first and only solo album with 2000's Ventilation: Da LP. Future plans for a solo career were derailed due to persistent health problems, which included having to undergo a kidney transplant in 2008 following renal failure.
He and the Tribe continued a relationship, albeit an often a strained one, and would go on to reunite multiple times over the next 15 years, beginning with headlining 2004's Rock the Bells concert up until Q-Tip announced the group would be opening for Kanye West's Yeezus tour at Madison Square Garden in 2013, which he said would be Tribe's  last performances together. They did, however, play what is now their final show together on The Tonight Show last November, 25 years after the group's debut album. Their contentious later years — and Phife's continued battle with diabetes — were documented in Michael Rapaport's 2011 documentary, Beats, Rhymes & Life: The Travels of A Tribe Called Quest, which was plagued by behind-the-scenes disputes between the group's members that spilled on camera.
The Tribe never recorded another album, but one fact of Phife's legacy remains: He was — as he responded to Q-Tip on what Phife told Vulture  was one of the group's best songs, "Check the Rhime" — on point "all the time."