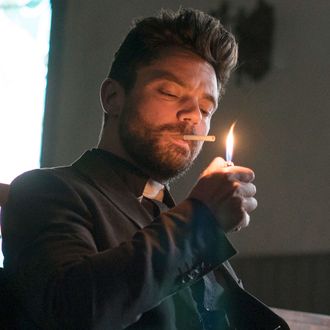 Dominic Cooper lights up as Jesse Custer.
Photo: Lewis Jacobs/AMC
If you're anxious to see the debut of AMC's much-anticipated TV adaptation of cult-favorite comics series Preacher, you have less than ten weeks left to wait. The network announced today that we'll see Dominic Cooper don the collar of outlaw reverend Jesse Custer on Sunday, May 22, at 10 p.m. EST, right after the mid-season finale of Fear the Walking Dead. However, you'll have to do a little more waiting after that, as the network is taking an unorthodox approach to its airing of the next episode: The following Sunday (which happens to be the day before Memorial Day) will see back-to-back airings of the first installment again, "providing new viewers multiple opportunities to catch up during the holiday weekend," as AMC put it in a statement. Further confusing the matter, when the second episode does arrive on Sunday, June 5, it'll air at 9 p.m., which will be the new regular time for the series. Got all that? Good.
Luckily, the setup for the show remains delightfully simple: Custer is a fallen man of God who gets an unexpected superpower and goes on a mission to hold the Lord Almighty accountable for all the wrong He has done. At his side are his ex-girlfriend Tulip (Ruth Negga) and Irish ne'er-do-well Cassidy (Joseph Gilgun). The gritty series upon which it's all based — which came from the writer/artist team of Garth Ennis and Steve Dillon — was a foul-mouthed critical sensation in the late 1990s when it was published by DC Comics imprint Vertigo, and AMC is betting they'll have another Walking Dead–style comics-adaptation sensation on their hands. Only God knows if they will.