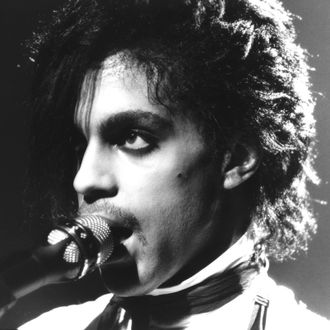 Photo: Waring Abbott/Getty Images
Last week, objects from Prince's personal life were put up for sale. This week, it was his story that hit the market. Last night at the New York City club Avenue, Prince announced that he signed a deal to write a memoir after publishers Spiegel & Grau made him "an offer I can't refuse." The memoir, which its publishers have unsurprisingly described as "unconventional and poetic," has the working title The Beautiful Ones and is scheduled to be published in fall 2017.
To write it, Prince is revisiting the details of his past, "starting from the beginning from my first memory and hopefully we can go all the way up to the Super Bowl." The fate of print might be in limbo — at one point, Prince asked the cheering crowd, "You all still read books right?" — but if you ever doubted that Prince was a man whose words should be preserved on page, refer to the moment during his post-announcement performance when he looked out to the crowd and instructed, "Check your mailbox. There's funk inside."
Neil Janowitz contributed reporting.
*Correction: This article originally included incorrect information about a co-writer on the book.