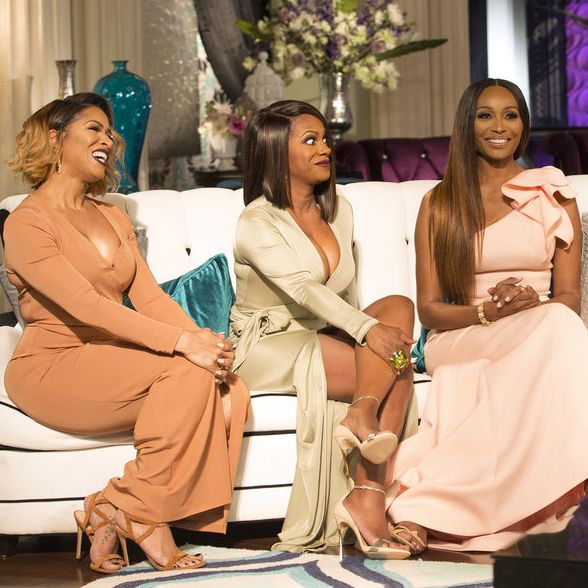 The cast members.
Photo: Bravo
If I'm being completely honest, the reunion episodes are what I enjoy most in any Housewives season. Every cast member has heard all the trash said about them, so there's actual drama as opposed to most of that fake stuff. Does anybody really care whose house is built faster? I mean, really. I'm still renting an apartment, so in my eyes both Sheree and Kenya are winners for being able to build their dream homes from scratch. Those kinds of #FirstWorldProblems never appealed to me much.
Another thing I never got into this season: the addition of Kim Fields. I was highly suspicious from the start, since she seemed far too mature for this group of ladies and wouldn't debase herself for extra screen time. Her penchant for rising above the foolishness also allowed Kenya to consistently bully her, which was just a bummer to see. Seeing someone get railroaded all the time is not the most fun thing to watch — and that is why I was so thoroughly happy when Kim finally stood up for herself in this first installment of the reunion. If Kim does more of that, maybe she'll come back next season after all. Let's get into everything that happened during tonight's episode, shall we?
We begin with a prediction from reunion host and Bravo golden child Andy Cohen: "This is going to be a shit show." I totally agree, and it'll be one in the best way possible. How do I know? The reunion starts with Andy complimenting Kenya on her larger-than-life weave and (facetiously) says that she is giving him Beyoncé. Remember how Kenya is under the delusion that people mistake her for Beyoncé all the time? Well, she goes, "I know! I'm Keyoncé!"
Kenya needs to get a grip and also learn when someone is being sarcastic. Anyway, we go around the room to catch up with all the ladies. Kenya won't confirm or deny pregnancy rumors (oh, good lord, just answer the damn question because he's the only person who actually cares). Kandi's son, Ace, is healthy, doing well, and already has over 100,000 followers on Instagram, so I'm going to go put my head in an oven. Porsha is officially an aunt and is on the verge getting all The Hand That Rocks The Cradle with her sister is happy. Cynthia is just looking pretty as per usual, Phaedra is talking about Jesus. Kim seems to be in really good spirits and maybe not wearing underwear. Yay!
We see a clip package of all the ladies being shady and putting each other down. They all decide that Phaedra is the shadiest one, which, duh, but for some reason Kenya, who constantly acts like an ass, objects to Phaedra calling her "oatmeal pie face" because … Kenya has bad skin, I guess? I honestly don't have time for this. Kenya calls everyone else every name in the book, but when Phae says one thing suddenly Kenya's feelings are hurt? STFU. Also, I love how being called a delicious dessert is more offensive than Phae saying that Kenya will be alone forever and will never get married nor have kids. Isn't that way more harsh? Or is Kenya just so vain that only comments about her looks cut deep?
We also learn that Kenya's hair-care products at the launch party were actually just water — but only the display items. The gift bags contained the real products, which Porsha said her friend used on a dog. LOL. Kenya is like, "Whatever. These products will be in CVS stores across the country in six months, so congratulate me." Everyone begrudgingly claps. Kenya then tries to make a bigger deal out of Todd taking a phone call during Kandi's sonogram appointment, but again, she gets shut down. What Todd did was obviously annoying, but Kenya can barely keep a boyfriend, so maybe she should be less concerned with other people's relationships. Then we see a clip of Todd drinking Kandi's breast milk from a cup and a lot of the women are like, "Eww." Oh, who cares? It's not like he took her breast milk and used it as the basis of a tres leches cake and then served it to them. Also, we have all had breast milk, so what's the big deal? Anyway, Andy then goes, "It's better from the tap." Cut to me like:
HOW. HE. KNOW. DIS? Andy just got 1000 percent more interesting. He and I need to hang for happy-hour drinks, just so I can find out all his secrets. Then he introduces Sheree, who has joined the ladies on the couch and looks amazing. She said this season was amazing for her and I agree. Sheree was messy, but overall, but she got along with everyone and had some funny one-liners. I hope she comes back next season. Andy moves on to a video package of Kim's time on the show. It was very up and down. Oof. As melodramatic as the season has been, I think it was worth it. She learned a lot about herself and grew. The other ladies says that perhaps Kim doesn't fit with them — duh — but I guess I'm confused about them all getting upset about her being judgmental. Do they not see the way they act a damn fool every other episode? I would slap on a doily and call myself Judge Judy around these heauxes. What did Kim say wrong? It is classless for these women to be in their forties,  fistfighting, and acting out at each other's launch parties. It makes sense that her response to all that nonsense is, "If I don't fit with this group, that is fine by me." They are too old to be gossiping and trash-talking people's husbands. And for Kim to have the confidence to be like, "If you are going to disrespect me, then I'm glad to not be around and not be tight like glue with y'all" is not arrogance. That's self-care.
You know how I've been wondering all season if Kandi and Phaedra are going to be BFFs again? Well, I think it's safe to say that'll never happen. I mean, Phae made so many public digs at Todd, which I always thought was not cool. You can't be someone's friend and then trash-talk their bae all the time. And yes, Kandi has gossiped as well, but I feel like Phae went below the belt. Kandi didn't, so I'm pretty sure they're done. There is also finally a resolution to this workout-video nonsense: Kandi paid Todd everything he is owed, and she's taking the video to another company to get it ready to be released. Okay, we all know this video is never going to be released, right?  I guess when you have money and you don't know what to do with it, you're like, "Lemme be Jillian Michaels for a day." I, on the other hand, would spend the money on Blue Apron and Tidal subscriptions. Different strokes for different folks, I suppose.
All of this pales in comparison to what truly matters, though: Kenya versus Kim! It's been a season-long battle that's been really one-sided. Kenya has had it out for Kim since day one (even though Kenya apparently helped get Kim on the show because they were in the same circle or something) and Kim either shied away from the drama or just allowed Kenya to run her over. Well, that mess stopped today. Kim spoke up, came across like the adult in the situation, and called Kenya out. How did she call her out, you say? When Kenya said that she was the star of the show, both Kim and Kandi checked her. When Kenya continually interrupted everyone to make non-points, yet got irritated whenever she was interrupted, Kim pointed out the double standard. When Kenya said that Kim Fields saying, "I'm Kim Fields" after their epic argument in Jamaica was arrogant, Kim and Kandi defended it. Is speaking in third person the most appealing thing a person can do? No. BUT! Kim has been in entertainment as an actor, producer, and director for over 30 years. She is very successful and the fact that her talent and résumé are being questioned by Kenya, who couldn't even be bothered to pitch her commercial idea because she just thought she was going to be get the gig because she's friends with Cynthia, is understandably going to piss Kim off.
So, Kim is finally puffing out her chest and telling that fool to check her IMDB page because she is motherflippin' Kim Fields. I am forever here for Kim defending herself. And this is the person Kim should have been all season. When she told Kenya, "Say something," and you could tell that Kenya tinkled in her gown a little bit, I died! Way to go, Kim. I'm really hoping that Kenya doesn't return next season. Her shenanigans are tired and I think there's enough going on without her.
Alrighty, what did you think of part one of the reunion? Are you happy that Kim started sticking up for herself?