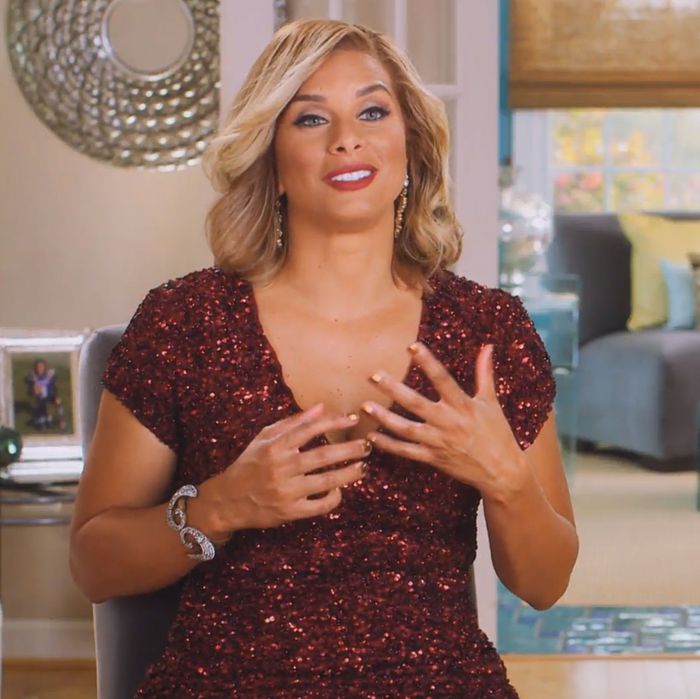 The episode opens with Robyn and Gizelle sitting down for a surprisingly shade-free lunch. Gizelle is letting Robyn know that she's been having conversations with Juan during Team Juan's little-league games about the future of their marriage. Juan told Gizelle that she needs to mind her own business. If only the women of Potomac would listen to the sage advice of Juan. Gizelle wants to know what's going on with Robyn and Juan and can't leave well enough alone. Robyn says that the ingredients of a good relationship are there, but she doesn't know if it's worth it to open up her heart again to someone who hurt her. Juan is committed to being a great husband and a great father; they just need time to focus on each other. Robyn's sincerity is out of place on this show.
Gizelle asks Robyn if she's over marriage, and in the most feminist moment of the show so far, Robyn rejects the entire concept of marriage. Okay, I'm Team Robyn.
Katie is meeting with her best friend, who lives down the street and helps her with fund-raisers. They drink wine and force Landon the dog (who got his own title card) to drink pool water. The ladies are speculating if Andrew will pop the question any time soon since he's enjoying his instant family and playing more golf. Gasp. My dad has been playing more golf lately. Someone tell my mom, his wife of 36 years, that he might be proposing soon. This lunch is considerably shadier than Robyn and Gizelle's. That's a sentence I never thought I would type. Katie did not think the cocktail pre-gala launch peewee fun-run race for the cure was lavish enough to be worthy of the title of "gala." Katie, we all Googled your latest Rost Foundation gala photos. I don't think you're in any position to talk.
Karen reveals she has a Sasha Fierce–esque alter ego named Chaka, who will slap the hell out of Ashley if she puts her daughter's name in her mouth again. Is anyone surprised that Karen has an alter ego named after the one and only Chaka Khan? This is one of those moments when everything falls into place and makes perfect sense. Karen swans around her three-bedroom garage with Ray looking over Rayvin's college boxes. She's going to miss her baby, but she's looking forward to future naked time with her husband. The only things on their retirement to-do list are bang, bang, bangity bang. They go upstairs for round two of this morning's romp. I love when old married couples still get it on. It's inspiring. I hope Karen puts those two amazing breasts in a Louis Vuitton leather bra like Lil' Kim, ties Ray up, and forces him to watch sad financial reports.
Ashley picks up her mother for a quick crab-cake lunch in her environmentally conscious Porsche. Ashley offers to buy her mother a house after her mother's bankruptcy because Ashley (read: her husband) is finally in a place to take care of her. If Ashley (read: her husband) has all this money, why not share it with the people close to her? After all, Michael (read: the chump footing the bill) has been lucky in his career.
It's Charrisse's big day. Her birthday? No. She's getting her birthday photo shoot done. This might be one of the blackest things on the show so far: Doing a special photo shoot in your own house in your own clothes for a slideshow at your own birthday party. We sure do love doing it for ourselves, don't we, brothers and sisters? Katie comes over to help pose Charrisse and the dogs. Just like Tyra's tricks for smizing, Katie has tricks for getting that pop in a photo. Think about difficult math: seven plus seven.
Eddie isn't planning on coming to the party, so everyone STOP ASKING CHARRISSE ABOUT IT.
It's the day of Rayvin's good-bye party. Cousin Bob shows up in an all-beige ensemble, doesn't say a single word, and requires a dedicated bartender. Don't all of our dads have a Cousin Bob? I bet Cousin Bob can throw down on a grill.
Karen is wearing a denim romper at Rayvin's party, and this cookout is the picture of upper-middle-class black perfection. Even Aunt Dot showed up in her finest summer dashiki. If you're gonna eat one person's potato salad, it should be Aunt Dot's.
Robyn and Juan go on a date, and Juan shows up in some shorts and a T-shirt. Bless his little busted heart. Robyn understands that Juan might have to take a job he doesn't really want so he can pay his coaching dues, and Juan reveals that he's already got a job in Maryland. Robyn says she's been believing him since 1996. Robyn and Juan are the actual cutest. I want to double-date with them. Do you think they like Settlers of Catan?
All of D.C.'s fabulous old black folk have turned out for Charrisse's party. All ya mamas and all ya aunties are dressed to the nines. Charrisse is asking teenagers to open bottles of Champagne for her. She's dressed like an extra from Down With Love. Her father, Major, is wearing his finest Tommy Bahama Hawaiian shirt (I seriously think my dad has that same Hawaiian shirt). Everything's coming up Charrisse!
And everything is about to go down with Karen and Ashley. Ashley, in her season-five Project Runway dress, is determined to finally bury the hatchet with Karen in America's most ill-advised move since the Iraq War. BOOM ROASTED! TAKE THAT, 2003. Ashley tries to talk to Karen, and Karen turns her back. Okay, that's not going to work. Gizelle and Ashley try to do the math on exactly where she messed up with Karen at the cocktail pre-gala launch peewee fun-run race for the cure. Moral of the story? Karen just isn't going to deal with Ashley tonight, and Karen has decided that Ashley doesn't belong in this world (read: Bravo-manipulated relationship). Karen says Ashley needs to "go to the zoo and pet an animal. Bye, Ashley. Go pet a panda." That was Chaka talking.
Charrisse changes into her second dress of the night, and her daughter gives her an incredibly adorable toast. Brynee makes a toast and tells everyone that Charrisse used to be a rapper named Sha-Sha. Charrisse gets up there and performs a rap she wrote when she was 16. The camera cuts to Major looking on, disapprovingly.
Meanwhile on the dance floor, Kangaroo Jack is busy feeling up everyone's date, and Gizelle and Robyn flip out that a man touched another man. They jokingly ask if it's a white-guy thing to grab another man's ass.
They were wrong for saying that. Katie was more wrong for then insisting that they both are biracial. There's nothing wrong with being biracial. There is something wrong with picking apart someone's appearance like you're ancestry.com to diminish their blackness. Yeah, I bet Gizelle and Robyn have white ancestors, Katie. Not. By. Choice. Girl, bye.
Ashley asks Michael if he was really grabbing butts, and he denies it … well, he may have patted Andrew's butt. Ashley asks if it's a white thing, and he tells her that, yes, it is a white thing. There you go, straight out of the dingo's mouth. He also tells her that she's the most intelligent woman he's ever met. Has he ever met like … I don't know … a math teacher?
Gizelle and Robyn leave the party arm in arm with Charrisse, who hasn't heard of any fights or arguments or butts being patted inside. The whole night is really coming up Charrisse! Take that, Eddie!