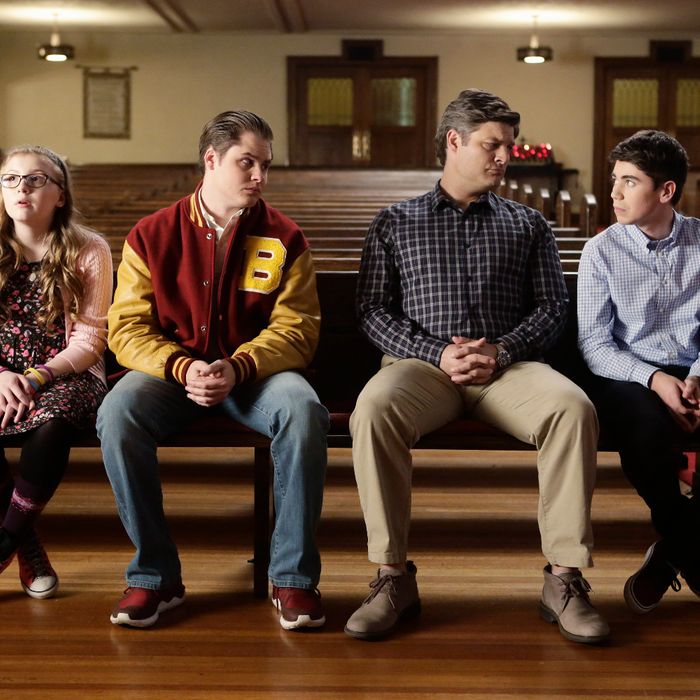 Bebe Wood as Shannon, Matt Shively as Jimmy, Jay R. Ferguson as Pat, Noah Galvin as Kenny.
Photo: Nicole Wilder/ABC
Over the last few years, ABC has showcased family sitcoms like Modern Family, Fresh Off the Boat, and Black-ish, which  better reflect American society than what's available on other broadcast networks. Its latest addition, The Real O'Neals, challenges the stereotypes of the Irish Catholic family, even while it leans heavily on them in this pilot episode.
The show centers on Kenny O'Neal (Noah Galvin), a teenager struggling to come out to his family. He's worried that his mother, Eileen (Martha Plimpton), won't be able to handle the news. In the pilot's opening scene, we see the O'Neals at a restaurant where Eileen orders for everyone and aims some Catholic guilt at the waitress. The youngest child, Shannon (Bebe Wood), is collecting money to send aid to Ethiopia. Oldest son Jimmy (Matthew Shively) seems okay with Eileen ordering his food — he needs to gain weight for his next wrestling match — but husband Pat (Jay R. Ferguson) clearly wants the meat and potatoes promised to him in Heaven now. And Kenny, our narrator, distracts himself from his mother's controlling behavior by imagining a vivid conversation with Jesus.
This first scene introduces us to some very familiar characters in the family sitcom formula: The controlling wife, the put-upon husband, the dumb jock oldest son, the narrating middle child, and the goody-two-shoes daughter. Even though it was quickly clear that the show would subvert these stock characters, I still found myself rolling my eyes as I watched, especially at Eileen. Plimpton has played some very interesting mothers on The Good Wife and Raising Hope, so it was kind of unsettling to see her play the stereotypical uptight mom who tries to shape her family into something they're not. However, Plimpton is a great comedic actor and livens up any role, so I'm willing to hang on.
Eileen is planning a church bingo fundraiser and Pat, an officer in the Chicago Police Department, was supposed to score a ridealong to auction. He couldn't get it approved; we see a cutaway to his last ridealong, in which an arrested suspect tormented a scared civilian. Eileen decides to offer up Pat's beloved canoe instead. He protests, but gives in after Eileen uses her "Irish Catholic Jedi mind control," as Kenny's voiceover tells us. She wants to impress a visiting bishop so he can write a recommendation for Kenny to attend Notre Dame. (He's not very smart and she doesn't want him living with them forever.) Pat is frustrated by Eileen's refusal to talk about things that affect the family. He literally says, "We never talk about things and I end up being railroaded into giving up my canoe." I'm surprised neon signs didn't pop up: MESSAGE. FORESHADOWING.
While everyone downstairs is preparing baskets for the fundraiser, Kenny is in his bedroom with his half-Jewish girlfriend, Mimi (Hannah Marks). Hannah is another fairly familiar character: The sexually eager teenage girl. She wants to have sex with Kenny because, for the six months they've been together, he's never tried to pressure her. When she gives him a box of condoms, Kenny panics at the thought of having sex with a girl so he runs to the bathroom, claiming he wants to make an entrance. Standing in front of the mirror, Kenny has a conversation with a hot shirtless model he's conjured from the back of a magazine. The imagined model encourages him to come out, but Kenny knows his mother will kill him. When he flushes a row of condoms, the toilet overflows, weakening the ceiling downstairs, which somehow leads to the condoms dropping into the room below. It's basically an announcement that Kenny and Mimi were not doing schoolwork.
Eileen's nemesis, Marcia Worthman (Sarayu Blue), helps fan the rumors that Kenny is having sex, which mortifies Eileen. The Real O'Neals takes place in a very kind of specific community — an Irish Catholic one — so I understand that it may not be the most diverse show. Still, it's interesting to see that Eileen's mortal enemy is a woman of color; Marcia seems to be the only nonwhite character in the casts. She also shows up to the fundraiser in a form-fitting red dress with bright diamond rings. It's too early to tell for sure, but so far, Marcia checks off all the boxes for Mean Girl Frenemy: Catty, shapely, and flashy.
At the church's Bingo Bonanza, Eileen sticks Kenny and Mimi on babysitting duties in the nursery, hoping to teach them a lesson about having sex too early. It's too much for Kenny, who realizes he can't keep lying about his sexuality. He tries to tell his dad, but Pat misunderstands when Kenny tells him he's afraid of vaginas. Pat thinks the discussion calls for a family meeting; he's tired of their lack of honesty and communication, so he gathers everyone in the kitchen for some group confessions. Pat and Eileen have been in counseling for a year and are getting a divorce. Jimmy is anorexic. Shannon is a thief and used the money she collected for Ethiopia to buy a car. And finally, Kenny admits he's gay. Eileen refuses to believe it until Jodi (Mary Hollis Inboden), who used to be married to Pat's brother, pulls back the partition that separates the kitchen from the rest of the church. The entire congregation has heard all of their secrets.
Eileen's idea of a perfect family has crumbled. She snaps: Marcia bought Pat's canoe during the fundraiser, so Eileen convinces the family to help her steal it back. She believes that the canoe represents all the good parts of their family before they exposed the truth about themselves. The episode ends with the kids watching television and asking each other what it's like to be anorexic, gay, and a thief.
It's hard to say how groundbreaking The Real O'Neals will be. So far, all of the characters and the show's structure seem very familiar. Galvin is good, and Plimpton is a scene-stealer (she can express so much just by pursing her lips). The big draw so far is the show's focus on his sexuality, and it certainly makes sense center everything around his coming out. In the short term, however, I think it will be more interesting to see how the show handles Jimmy's experience with anorexia. Eating disorders affect a significant number of boys and men, yet the subject doesn't come up often in television. How much more of his storyline will we see? And because this is a sitcom, how careful will the writers be about it?