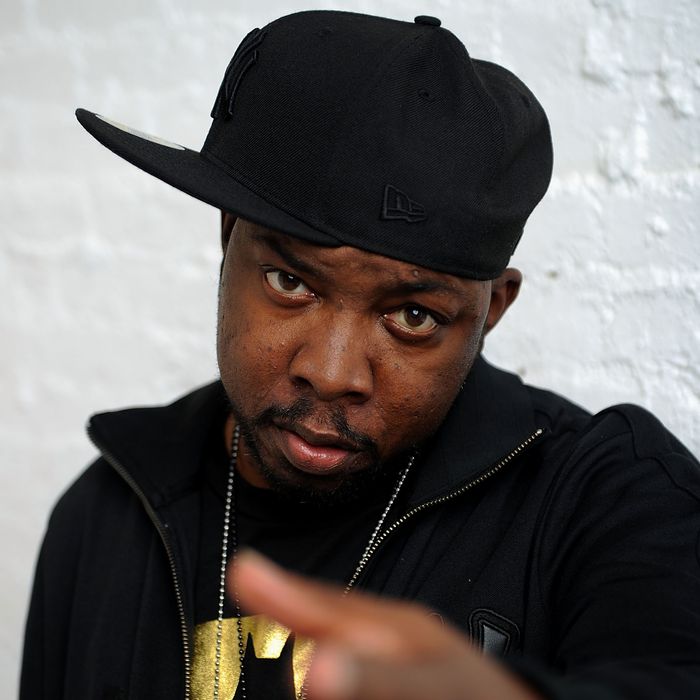 Photo: Andrew H. Walker/Getty Images
Unfortunately, you only really feel the true impact of a person when they die. Every loss is a reminder that we don't say "I love you" enough, we don't give those hugs that we should have, we don't squash beefs until it's too late. But there's something eerily beautiful in dying; even though you don't get to see the results, it's your final life examination. What did you do while you were here? Who did you touch? Did you change people's lives? And will you truly be remembered when you're gone?
Waking up to news of the passing of Malik "Phife Dawg" Taylor, member of A Tribe Called Quest, was like a gut punch I've only felt a few times in adulthood — Michael, Luther, Whitney, Bowie. While I was refreshing my Twitter in shock around 8 a.m., my roommate walked out of his room, saying, "Phife died, man. It's not right," and just left to go to work. It was clear this would be a day when nothing else really mattered. All you wanted to do was talk to the people that got it, avoid at all costs those that didn't, and hope that the masses felt the same way as you. When we lose some people, the outpouring of support isn't what you'd hoped it would be. With Phife, that most certainly isn't the case.
It's something about the death of a lyricist that hurts a different way. Yes, it's about the person, and it's this familiar voice you know, but you've also spent such a significant portion of your life effortlessly repeating their lyrics, after a not-so-effortless period of time attempting to perfect them.
"Award Tour" off of Midnight Marauders was among the first rap songs I forced myself to learn, without ever consulting the crib sheet that was the CD insert. Over and over again: listen, rewind, listen, rewind, listen, rewind. This was not in 1993, however — I was 6 when the album came out. This was a few years later, because by virtue of an 1987 birthdate, Tribe was not my group. I was not a Tribe fan in real time. Once I learned about Tribe and played catch-up, there was no turning back; I was a superfan, forever. But I wasn't a ATCQ/De La Soul/Jungle Brothers/Leaders of the New School kid wearing black medallions, no gold in 1989 — I was 2 years old. And because of that, out of respect, my initial reaction was to defer to those who did come up with Tribe, and to take a back seat. But looking at how the day has unfolded, it's a reminder that Tribe was a rarity. Because Tribe was for everyone. It didn't matter when you got on the Tribe train, all that mattered was that you hopped on.
A Tribe Called Quest mattered to everyone. And in that, Phife — the Di-Dawg, the five-foot assassin — mattered to everyone.
When many people die, the outpouring of love comes from one corner of society. It's this thing in which some are aware of what happened and others don't have the slightest clue what people are so sad about. That's not what has happened today with Phife. I witnessed more people having something to say about Phife than not. Watching young kids, people in their 40s, 20-something rappers, sportscasters, talk-news pundits, athletes — some of everyone — pay their respects on social media today has been an amazing thing. People throwing out their favorite lyrics has been a very real, cathartic process. You can almost see the person who tweets the lyric as the younger version of themselves, rapping them aloud in their room, behind the wheel, at a party. What a beautiful legacy to have, more people feeling something than not.
There's one completely left-field tribute, however, that made me smile, truly summing up how far-reaching Tip, Phife, Ali Shaheed, and Jarobi's music got, and how much it meant to people. Traffic reporter Mark Arum from Atlanta's WSB-TV, with the help of anchor Fred Blankenship and reporter Mark McKay, threw Phife lyrics into an entire segment about the morning commute. The entire segment. It's not perfectly executed, which is why it's so perfect. This isn't some shit brand trying to capitalize on the news of the day, these are just some dudes that clearly grew up on Tribe, were feeling some type of way about the news, and wanted to pay their respects in the one way they could, during the morning local-traffic segment. And it's perfect that they're paying tribute to Phife. He wasn't, outwardly, the coolest one of the Tribe bunch, so it's okay to be a little square and do your best Phife impression. He was your guy.
But he also was the coolest, in his own way. Phife Dawg was heroic. He was a beast. And he rapped both like there was no tomorrow and that he would live forever. Those seem in direct contrast to one another, but after today, it's clear that both could not be more true.