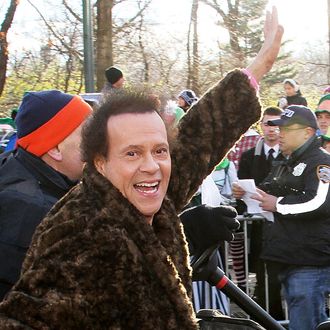 Richard Simmons in 2013.
Photo: Laura Cavanaugh/2013 Getty Images
Richard Simmons, who first retreated from public presence in 2013 — and later said on Facebook that the reason was because he had suffered a knee injury — is not depressed or being held at home against his well, according to a statement from his rep. "As I have stated in the past, these claims are untrue and preposterous," Tom Estey told People. "Richard, after 40 years of being in the spotlight, is now simply taking a break from the public eye and working behind the scenes to continue to help those millions of people worldwide in need of his assistance and on several projects to be announced soon."
The statement comes after Simmons was the subject of a report in the New York Daily News published yesterday. The piece quotes many of his close friends and associates, all of whom say that they haven't had any contact with the exercise guru for two years. Mauro Oliveira, Simmons's former assistant, acts as the key witness and claims that Simmons is depressed due to his knee injury, medicated to the point of incoherence, and under the control of his housekeeper, Teresa Reveles. Writing to USA Today, Estey insisted Simmons's mental health was not an issue: "I don't want the readers of USA Today to think this man is a Howard Hughes recluse in his own home. He's just not." Simmons himself has not spoken out except through his representative, neither in the New York Daily News report, nor in response to it.