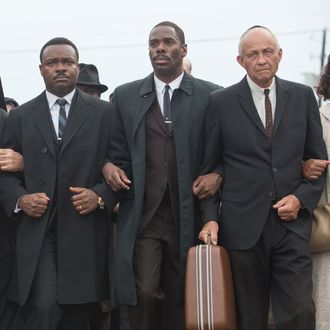 2014's Selma.
Photo: Atsushi Nishijima/Paramount Pictures
#OscarsSoWhite provided a rallying point for the discussion around diversity, or the lack thereof, in Hollywood. But a recent report provides more evidence that the problem goes far deeper that just the Academy Awards — despite proof that films with diverse casts perform better worldwide.
UCLA's 2016 Hollywood Diversity Report, published by the Ralph J. Bunche Center for African American Studies, examined 163 theatrical films released in 2014. Some glaring data:
Minorities only held 12.9 percent of the lead roles in these movies, down from 16.7 percent in 2013. With minorities making up 37.9 percent of the U.S. population in 2014, that means actors of color were underrepresented by a factor of nearly three to one. 
As far as casts go, 80.9 percent of these movies featured a cast composed of fewer than 30 percent minorities, up from 72.4 percent in 2013. And films closest to an accurate representation of demographic distribution in the U.S. — those falling in the range of 31 percent to 40 percent minority — had decreased from 7.5 percent to 5.6 percent of the movies looked at by the survey.
Minorities were underrepresented by a factor of three to one among directors and five to one among writers.
The report also makes the convincing argument that one of the biggest reasons for this lack of diversity has to do with the gatekeepers — it found that agents at the top-three talent agencies are 90.8 percent white and 68.1 percent male. But there's another element to underrepresentation that makes it puzzling: Worldwide box-office returns indicate that diversity pays off.
Films with a cast made up of 41 to 50 percent minority actors had the highest median global box-office return as well as the highest median return on investment. Films with a cast made up of more than 50 percent minority actors had almost exactly the same median global box-office returns as films with casts of ten percent or less minority actors. And over the last few years, the story has been similar. In 2011 and 2013, the highest median global box-office returns came from movies with 21 to 30 percent minority casts, and in 2012, it was movies with 31 to 40 percent minority casts.
This evidence seems to fly in the face of the Hollywood maxim that global audiences won't come out to see minority leads in major films, a belief that's been cited despite the mammoth careers of Denzel Washington, Will Smith, and plenty of other minority movie stars. It also reinforces the power of minority moviegoers, who made up more than 40 percent of tickets sold for all ten of the top performers in 2014, as well as 59 percent of the audience for the year's box-office champ, Transformers: Age of Extinction.
The report cites similar data for the success of diverse casts on television, and it paints a familiar picture of women being disadvantaged in terms of representation as well. But the most important conclusion to be drawn from these findings is that for Hollywood, diversity doesn't have be treated as a crusade or a mea culpa. It's good business.