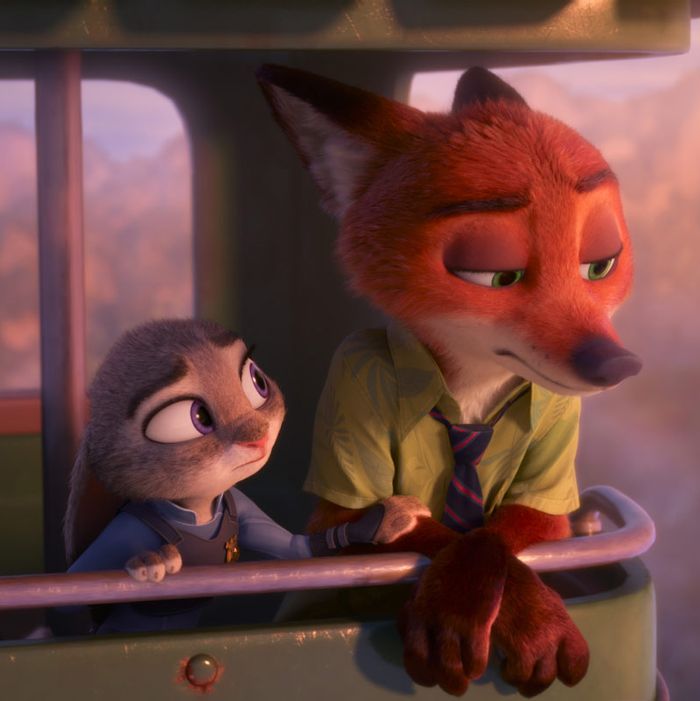 As you watch Disney's Zootopia, with its blandly dazzling 3-D computer animation, its plucky female protagonist and sleazy but destined-to-be-reformed male sidekick, its nonstop wisecracks and mildly progressive message of tolerance, you will be seeing the new exemplar of a corporate family blockbuster. It hits every one of its marks. My own grumpy cynicism — in full effect for the first frenetic half hour — melted away, partly by the charm of the voices and partly because the film had transformed into a clever, gumshoe mystery of the sort that studios once made all the time but are now seen as too modest. That's right: What saves this big-budget cartoon behemoth is its modest, old-fashioned storytelling.
The neat idea for Zootopia's universe — that in its futuristic metropolis (which looks suspiciously like Disney World), there are no longer predators and prey but animals of all species that co-exist more or less in harmony — seems at first beside the point in a genre where most animals get along, and speak to one another in English besides. But the screenplay by Jared Bush and Phil Johnston (from a story by those two guys, plus at least five other people with "additional story material" credit), quickly establishes that there are numerous class distinctions in the city of Zootopia.
The heroine, a plucky (I already used that adjective, but it's unavoidable) bunny by the name of Judy Hopps (voiced by Ginnifer Goodwin), graduates from the police academy and becomes the first of her diminutive species to serve alongside rams, elephants, lions, rhinos, etc. Assigned to a humiliating parking detail, she falls gratefully on a dead-end missing person — or, rather, missing otter — case, which her boss (a booming British ram voiced by Idris Elba) gives her 48 hours to solve or else resign from the force.
To help her, she blackmails a savvy fox named Nick Wilde that she caught committing all kinds of crimes and misdemeanors. (Foxes are universally distrusted in Zootopia.) Nick is voiced with winning buoyancy by Jason Bateman, and Goodwin is beat-perfect, too: They understand that in a screwball whodunit, the tempo is paramount. You whiz with them around Zootopia (which has several climates, among them a frozen tundra) as they pore over surveillance tapes, search dark garages, and intimidate weaselly henchmen (among them a weasel called Duke Weaselton, voiced by Alan Tudyk), and think, "Gee, this is pleasant."
The animals are fluff-bunny cuddly and highly merchandisable; the designers having presumably been told not to ruffle any human feathers. Well, there is one disconcerting character: an obese, effeminate cheetah called Officer Clawhauser (voiced by Nate Torrence) who's obsessed with donuts and a singing superstar called Gazelle. (The songs are by Shakira, and they're big productions.) I'm not sure if Clawhauser is meant to be literally gay or simply embodies the kind of fat-queen stereotype that used to be a fixture in comedy, but for grown-ups he is, as I said, disconcerting. Comedian Jenny Slate does well with the endearingly bubbly assistant mayor, a sheep, and a Canadian voice specialist named Maurice LaMarche stops the show as the crime boss Mr. Big, an arctic shrew who sounds like Brando's Don Corleone on helium.
I have no intention of spelling out the nature of the vast conspiracy at work, which turns on animals who have reverted to their more savage natures, except to say that ultrasensitive right-wing culture warriors (and certain presidential candidates) will find it the embodiment of a dangerously naive liberal tolerance in a time of threat. My own view is that it's a happy corrective to all the xenophobia and demagoguery and is no more dangerous than an episode of Mister Rogers' Neighborhood. But then, I'm not sure that Ted Cruz and Mr. Rogers, were he alive, would have much to say to each other. Cruz would put surveillance drones in the Neighborhood of Make-Believe.